CELEBRATING 21 years of fostering growth in health care
Health Enterprises Network is entering its 21st year of being the champion for health care economic growth.  To celebrate, we are looking back at how it all began, key players in the formation and early projects. 
Inspired by the Nashville Health Care Council (NHCC), David A. Jones, co-founder of Humana, invited the health-related community of Greater Louisville to discuss forming an alliance to foster growth and prosperity for existing, relocating, and start-up health-related companies in our community.
After this meeting, a Visioning Committee was convened to determine the best methods of creating and sustaining a health-related network.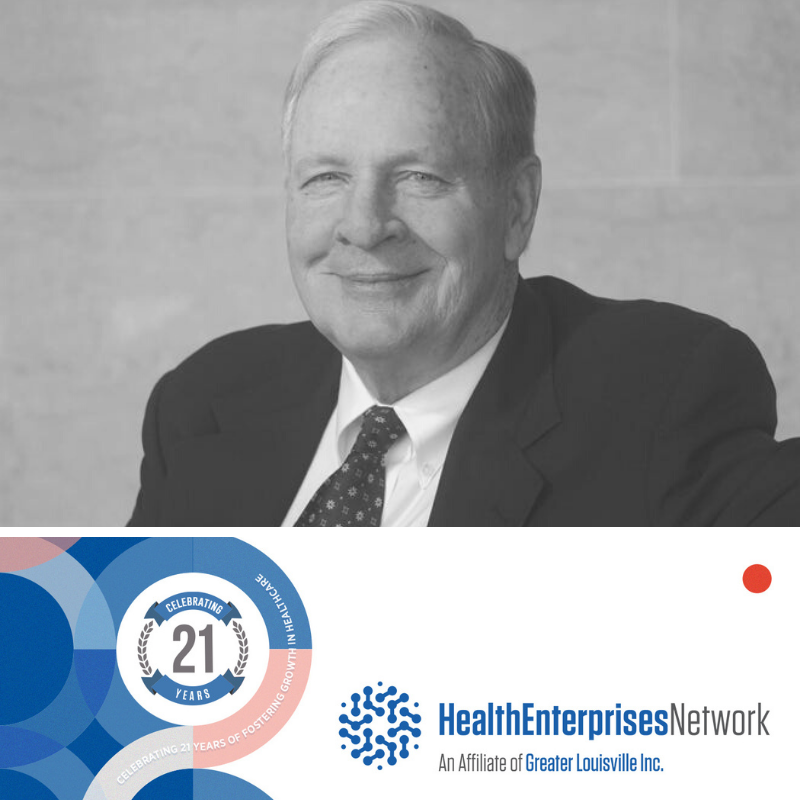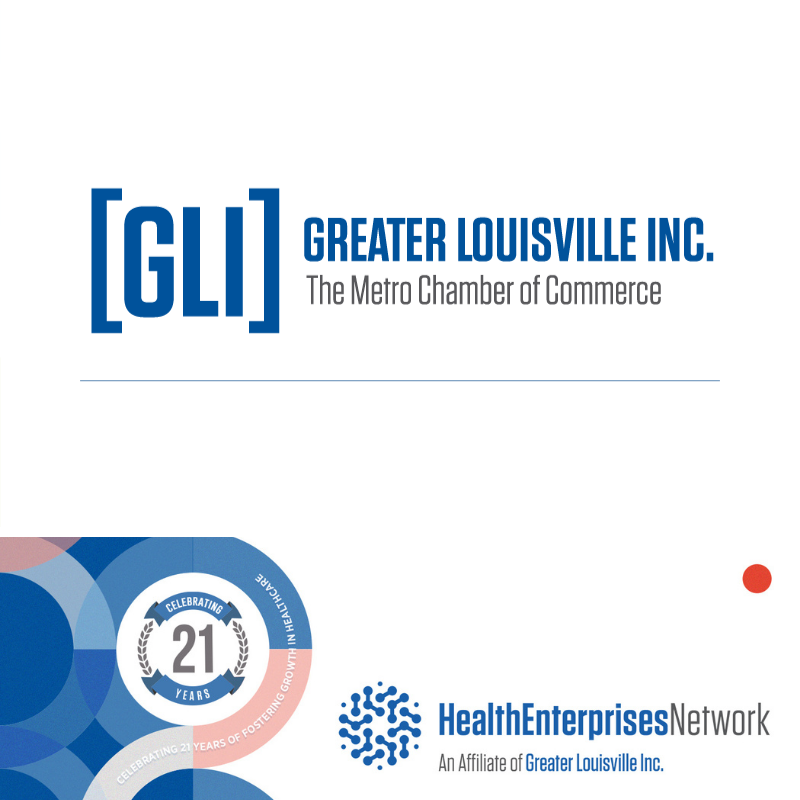 Health Enterprises Network (HEN) is launched as part of Greater Louisville Inc.'s (GLI) Business Networks initiative, and focused first year on fundraising, developing a business plan, planning networking events and creating publications.
The Visioning Report is created, which is the founding document that articulates a vision, a mission and several key strategies for success in promoting the economic growth of Louisville, and Kentucky, in health-related industries.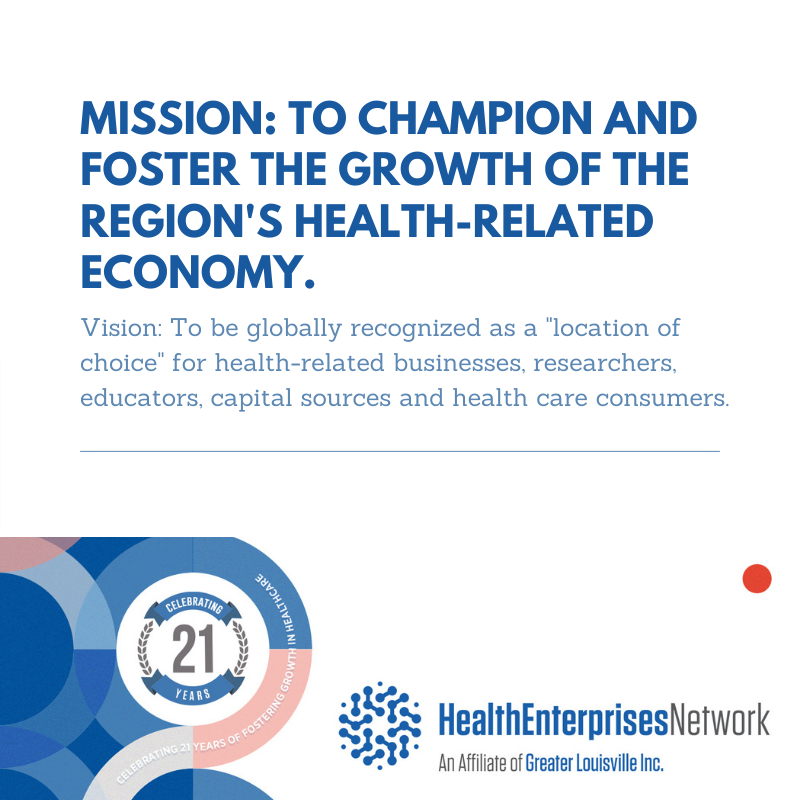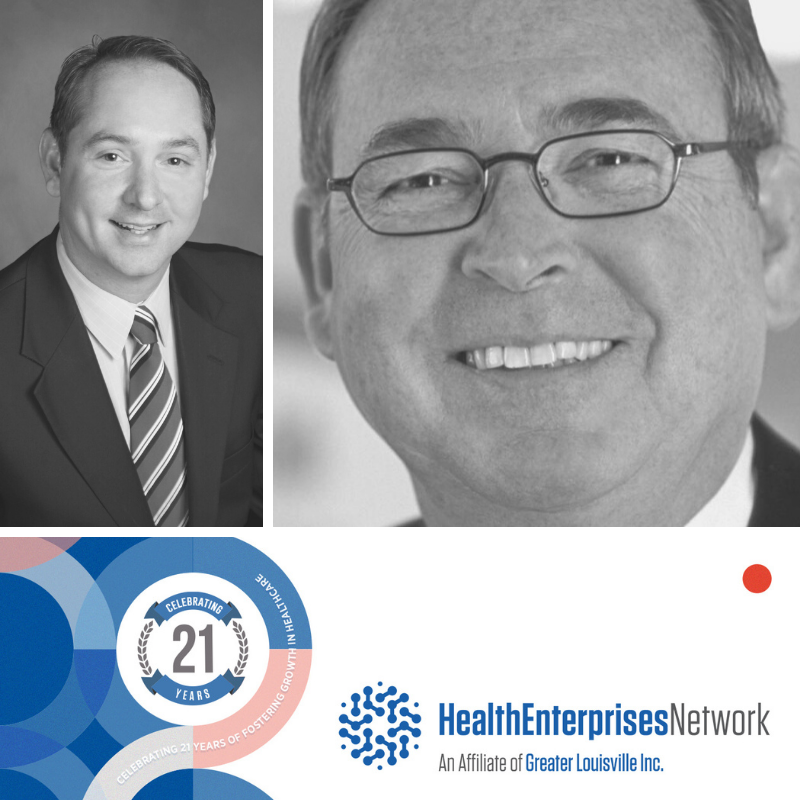 Henry C. Wagner, President & CEO of Jewish Hospital Healthcare Services (at right), is named first Chairman of the Board. Tom McMahon (at left) is hired as the first Executive Director.
HEN publishes Louisville's Health-Related Economy: Size, Character and Growth which assembled a large collection of objective industry-standard data to be tracked on an annual basis.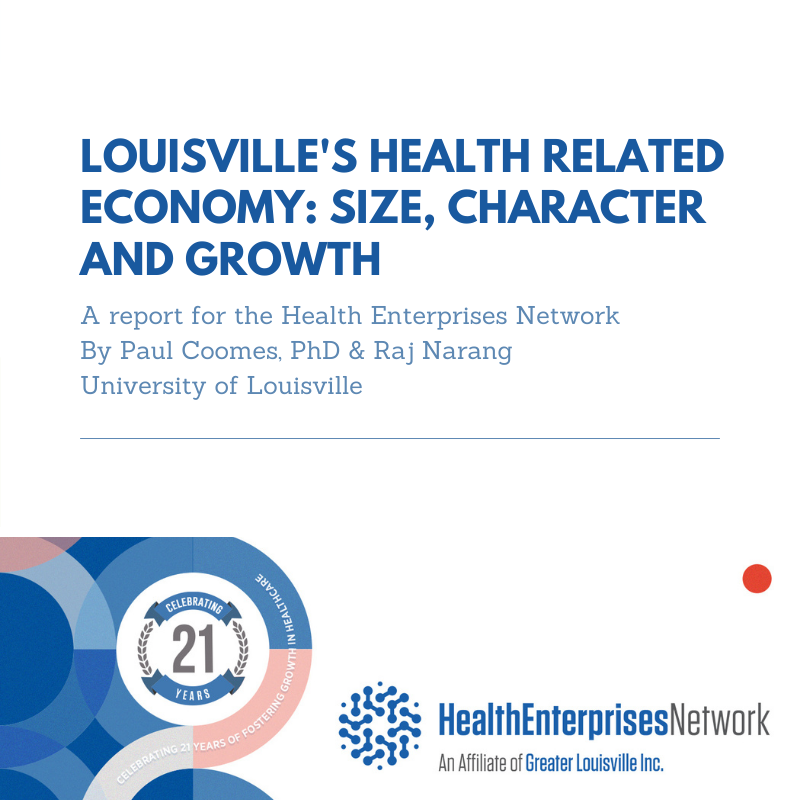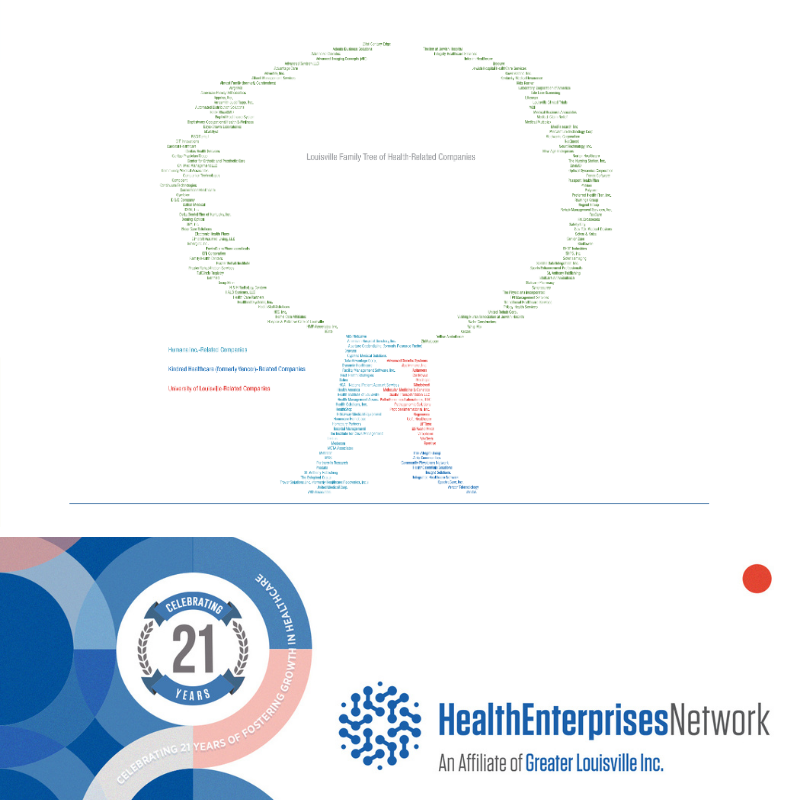 Unveiling of the Louisville Family Tree of Health-Related Companies. The Family Tree is based on a similar idea at Nashville Health Care Council and was created to understand the current state of Louisville's health-related economy and to build on current strengths while working to eliminate current weaknesses. The Family Tree was used as a resource for businesses being attracted to the Louisville area and companies considering doing business in Louisville.
HEN publishes the Sourcebook for Life Sciences Investors and Entrepreneurs which gave entrepreneurs as well as angel, seed and early-stage venture investors an overview of resources available for the life sciences in Kentucky and Greater Louisville.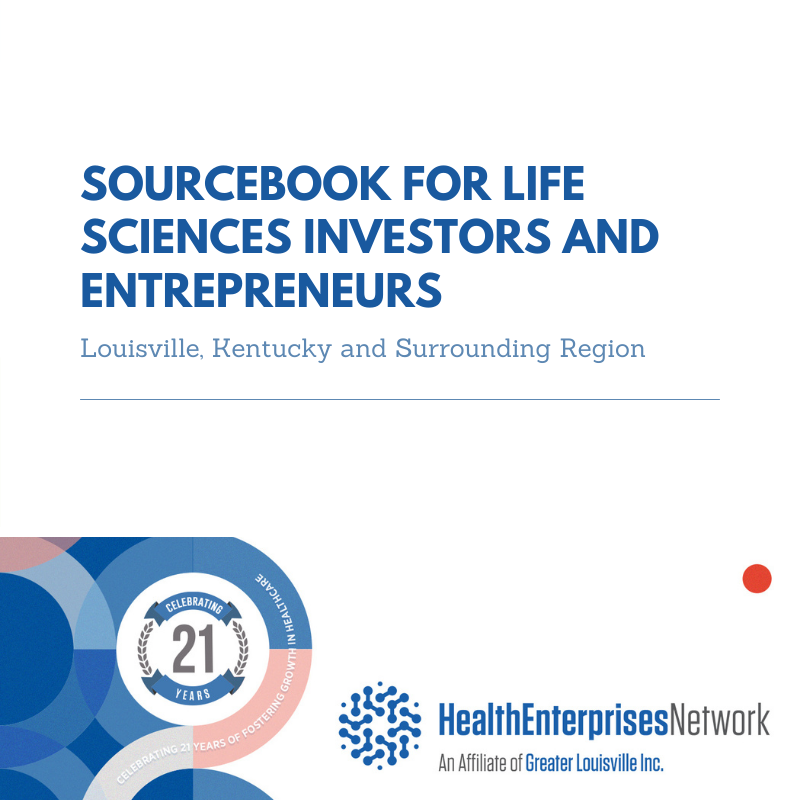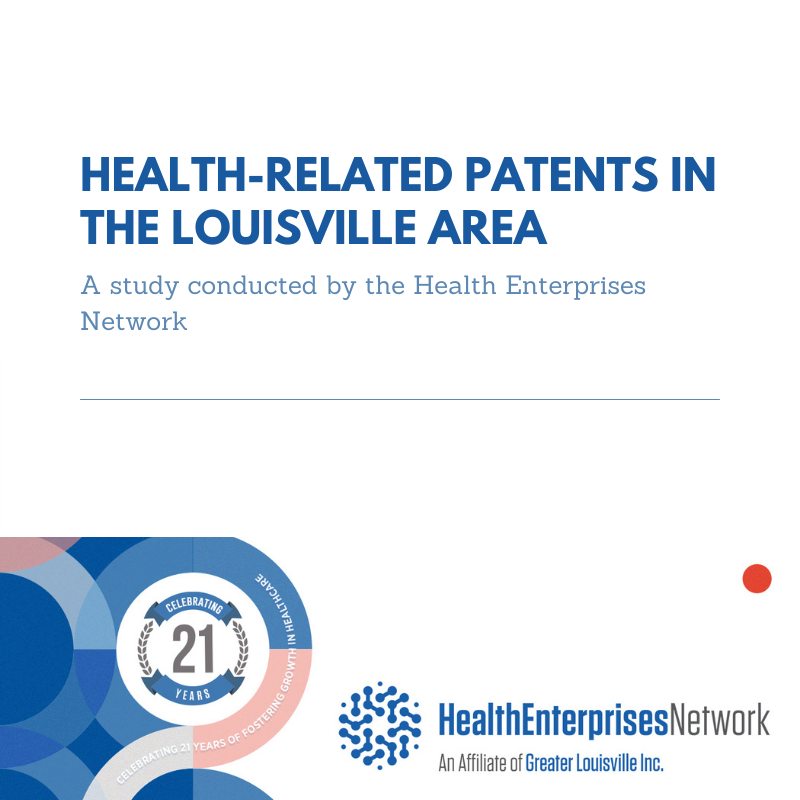 HEN creates the Patent Report: Health Related Patents in the Louisville Area in collaboration with Arno Spatola, PhD, Professor of Chemistry at UofL. With this data, the Network hoped to facilitate government affairs initiatives and workforce/talent development programs that encourage more entrepreneurial activity and investment in the most active sectors of the region's thriving health-related economy.
David Jones Jr., Chairman and Managing Director at Chrysalis Ventures (at right), is named second Chairman of the Board. Ben Keeton (at left) is hired as the first Business Development Manager.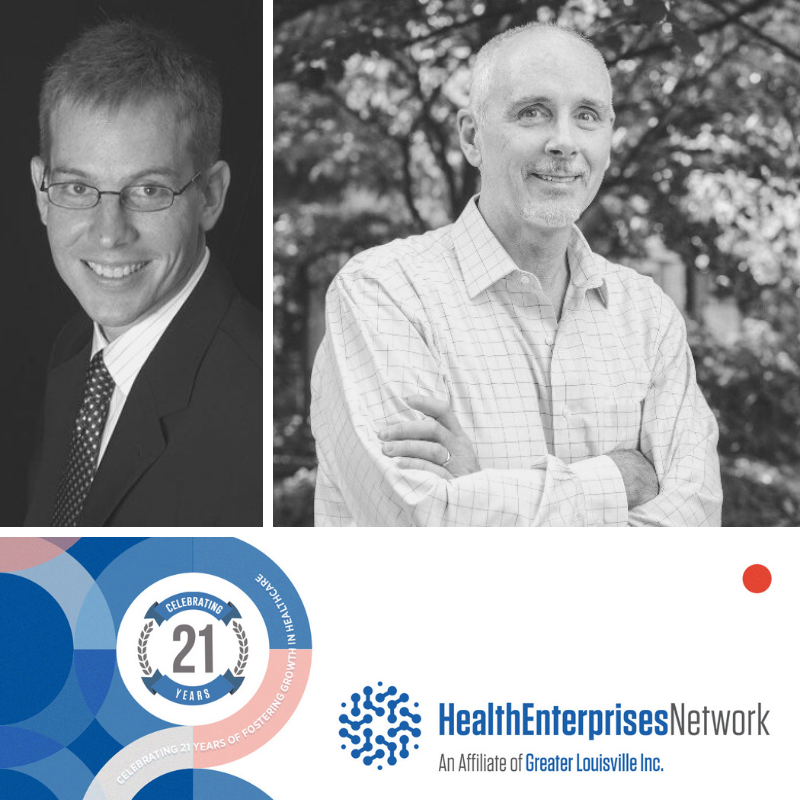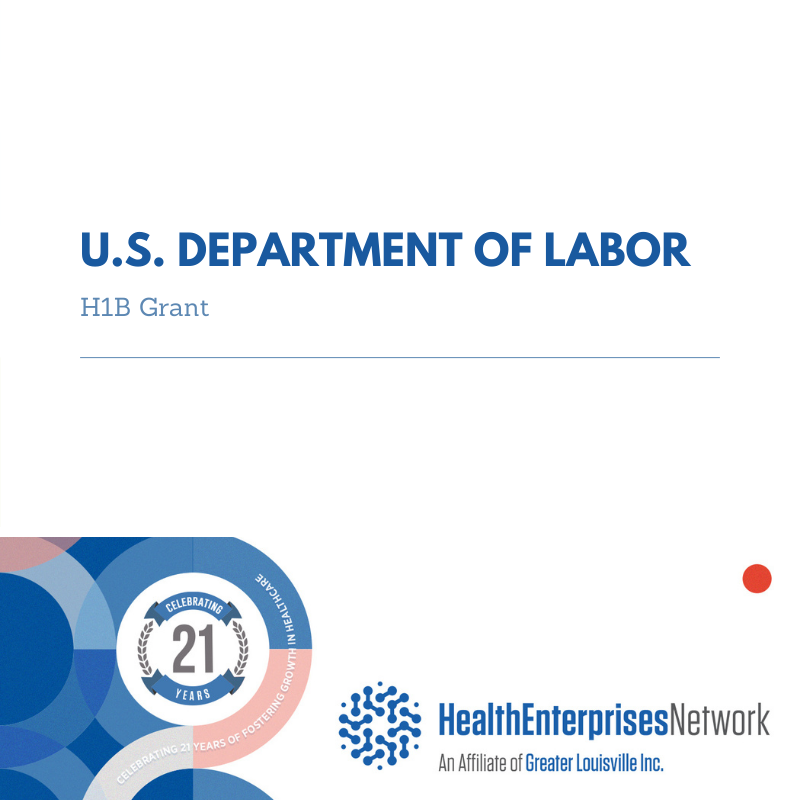 HEN applies for $3 million 2-year "H1B" grant from the U.S. Department of Labor to fund training for new workers (RN, LPN, Respiratory Therapists and Lab Technicians) and helps current workers move up the healthcare career ladder.
Healthcare Fellows (originally called Emerging Leaders Development Plan) is developed to help up-and-coming executives in healthcare and life sciences build relationships with peers, improve skills and interact with leaders from Louisville's health-related business community. The focus was on executives and emerging leaders because The Beyond Merger report called for projects to "cultivate and attract large numbers of better- educated knowledge workers."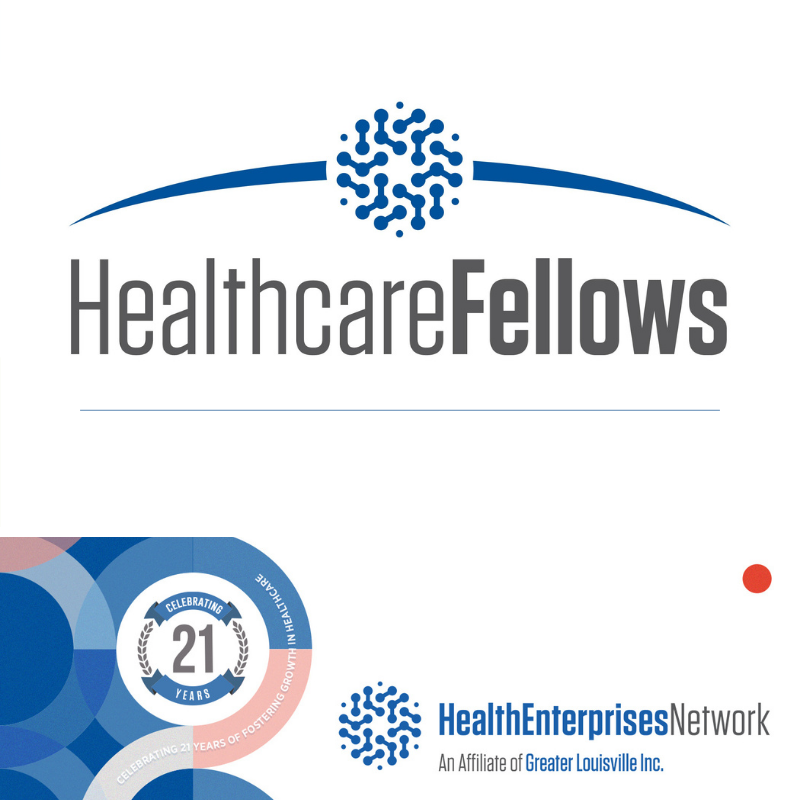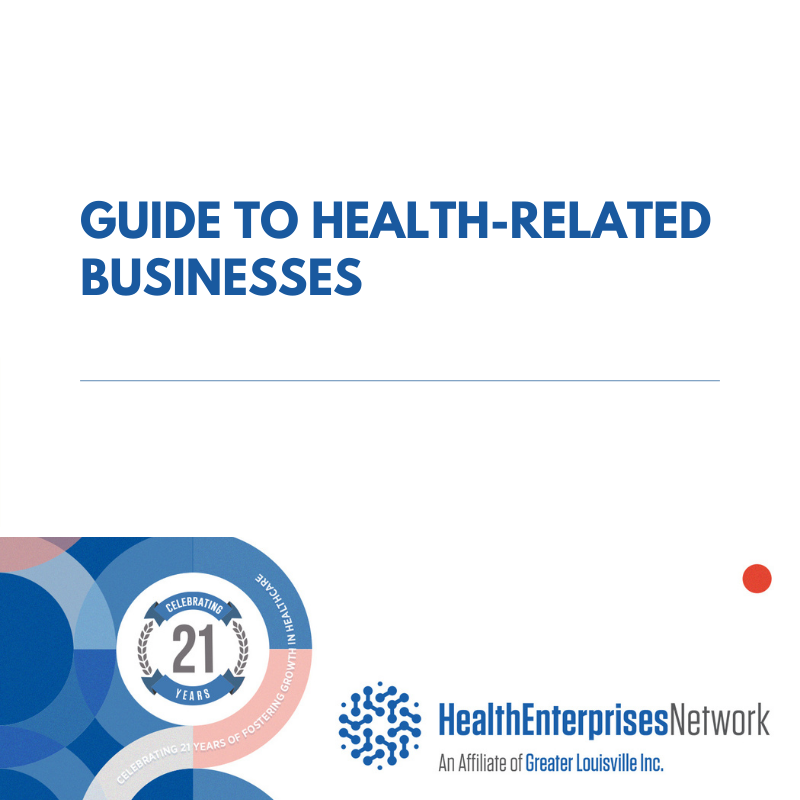 HEN publishes the Guide to Health-Related Businesses in the 23-county economic area which cataloged the health-related businesses in the region, especially those businesses not traditionally associated with healthcare or listed in other health-related guides.
HEN launches the Kentucky Health Science Initiative in collaboration with Metro Louisville, University of Louisville, and Louisville Medical Center Development Corporation.
The Brookings Institution Report, sponsored by the Greater Louisville Project, and GLI's recent Entrepreneurship Research Report identified creating pools of seed capital for Kentucky's rapidly growing health science innovation as the number one priority in spurring future economic vitality.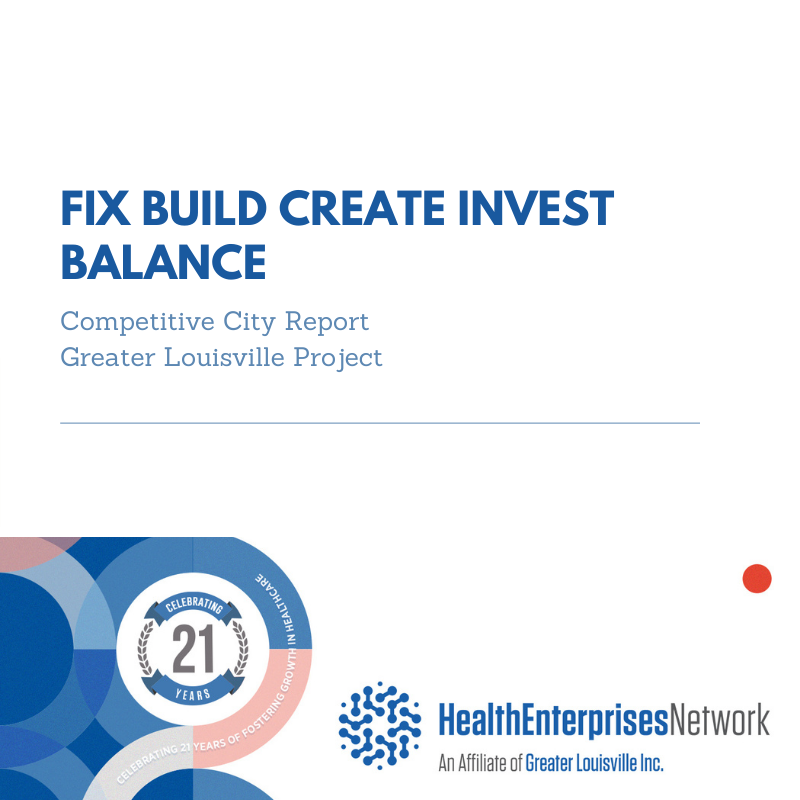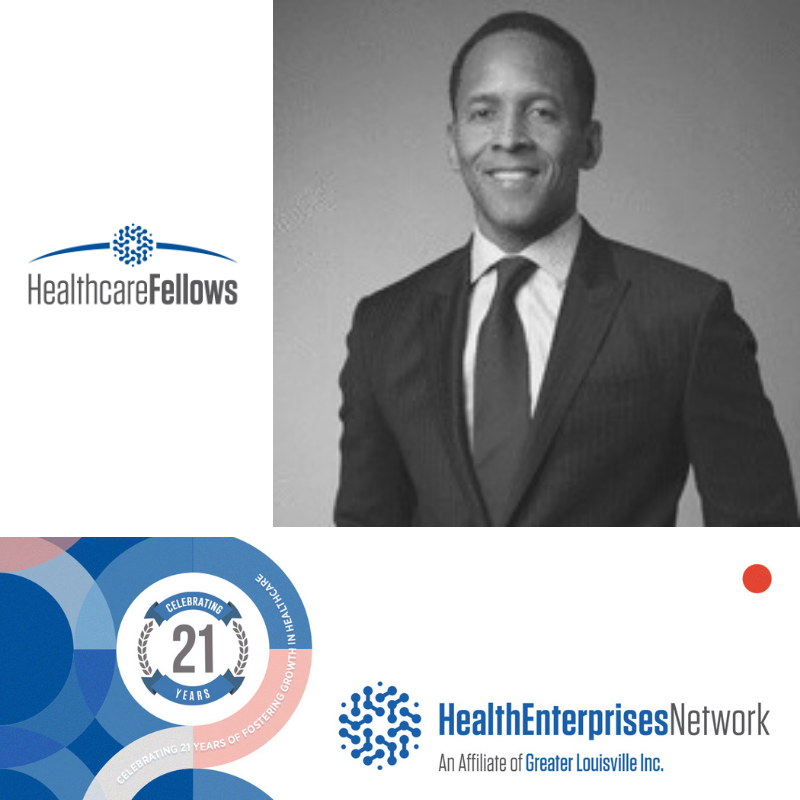 The Healthcare Fellows Program is launched which included nine sessions focused on startups, mergers and acquisitions and the future of the business of healthcare.
Curtis Warfield, Chairman and Managing Director of HCA Healthcare, is named Chairman of the Board.
The Trend Map, which informed, identified gaps and served as a score card to the health-related business community of Louisville, is created by the 2005 Healthcare Fellows class.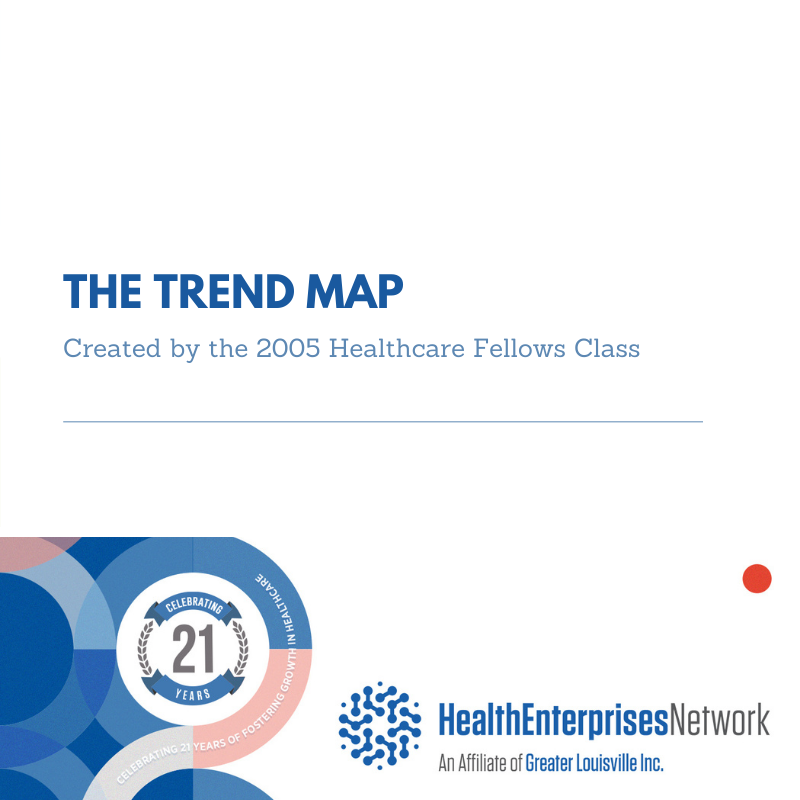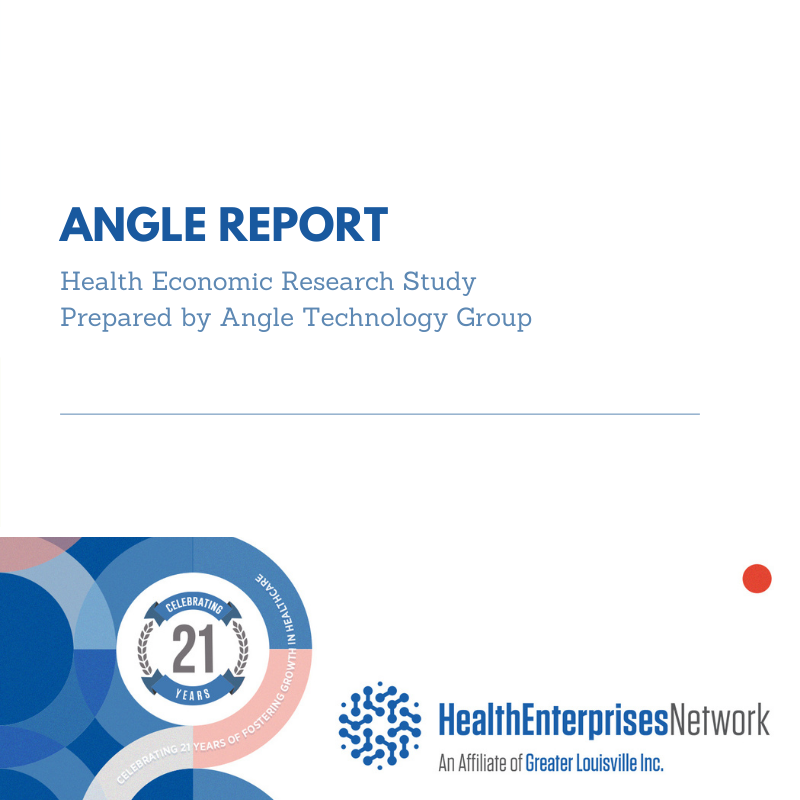 HEN releases an economic research study called the Angle Report  which identified Louisville's Aging Care Headquarter concentration as highest in the nation.
Mark Carter, President of Passport Health Plan, is named Chairman of the Board.
HEN hosts a panel presentation surrounding the unveiling of NUCLEUS, the brand and concept established by the University of Louisville, to anchor the creation of 2.2 billion dollar health sciences center.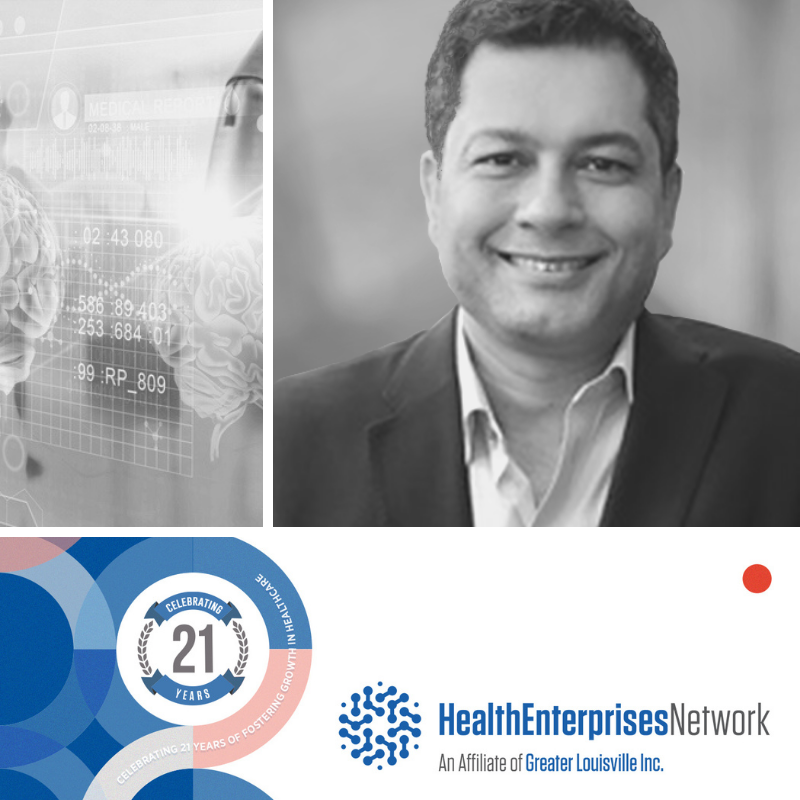 Rishabh Mehrotra, President & CEO of SHPS, is named Chairman of the Board.
HEN Signature Event: Driving Innovation – Healthcare's Movement to Transform and Advance. In this panel discussion, innovators shared their thoughts on healthcare innovation movements and the importance of keeping new idea developments in the region.
HEN and GLI developed the Lifelong Wellness and Aging Cluster in 2011.
Ralph Gronefeld, CEO of ResCare (at left), is named Chairman of the Board in 2012.
E. Joseph Steier, III, President & CEO of Signature HealthCARE (at right), is named Chairman of the Board in 2014.
Health Economic Research Study by Megan Hardy and José M. Fernández, PhD, with UofL, is published which summarized the economic impact of the local healthcare industry.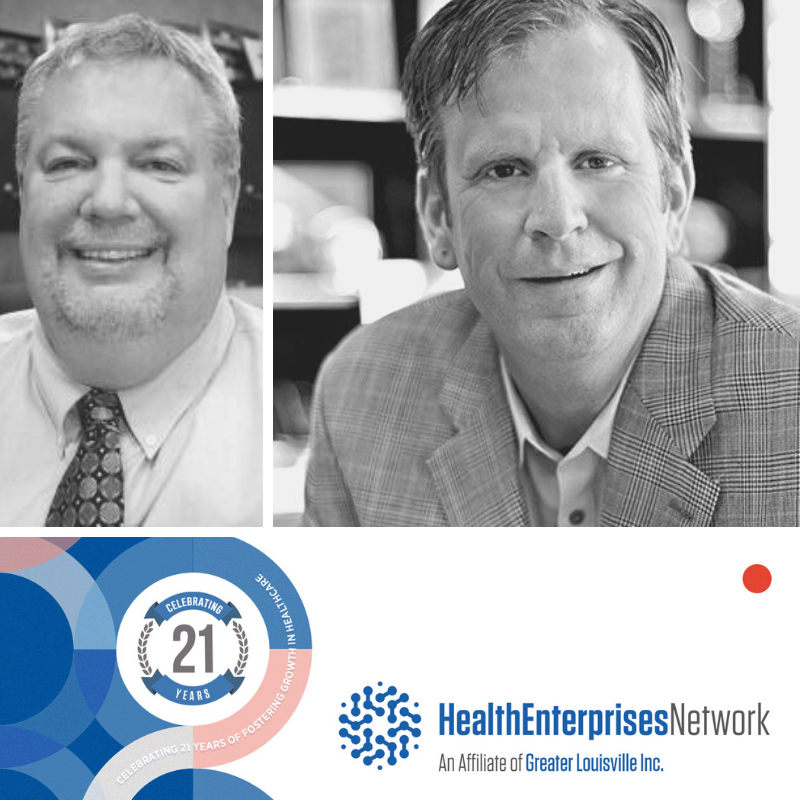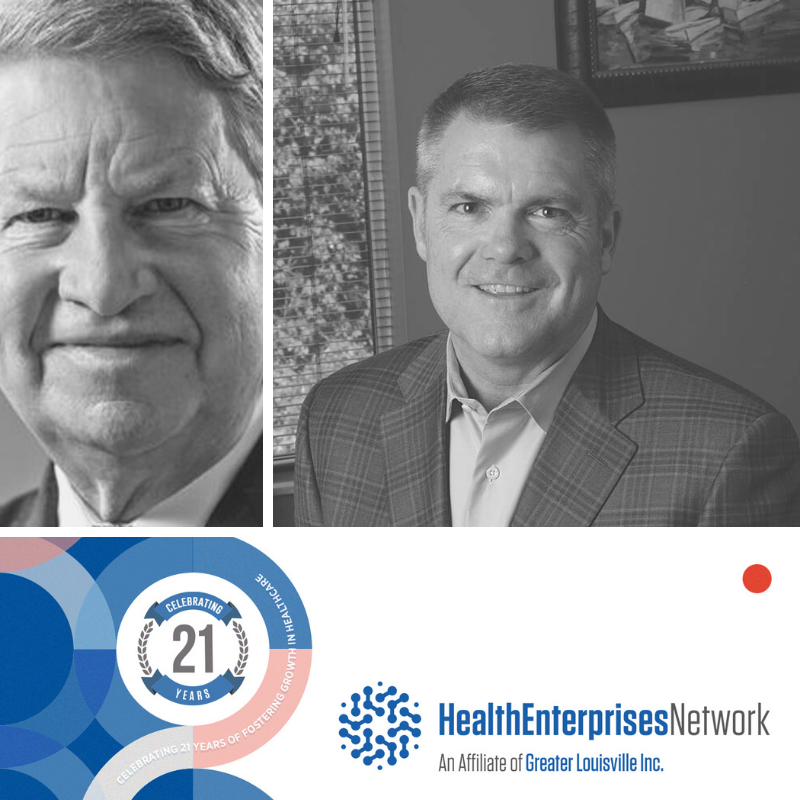 Steve Hanson, CEO of Baptist Health (at left), is named Chairman of the Board in 2016.
Phil Marshall, president and CEO of Hosparus Health (at right), is named Chairman of the Board in 2017. 
Forbes magazine names Louisville "America's Aging Care Capital." Article explores how Louisville is home to America's largest cluster of aging care businesses, such as nursing homes, home-based health care, hospice and other senior living services.
Louisville's Health Care History is compiled in conjunction with the Louisville Map of Health-Related Companies. This is the first-ever written compilation of the city's health care history compiled by the 2018 Healthcare Fellows.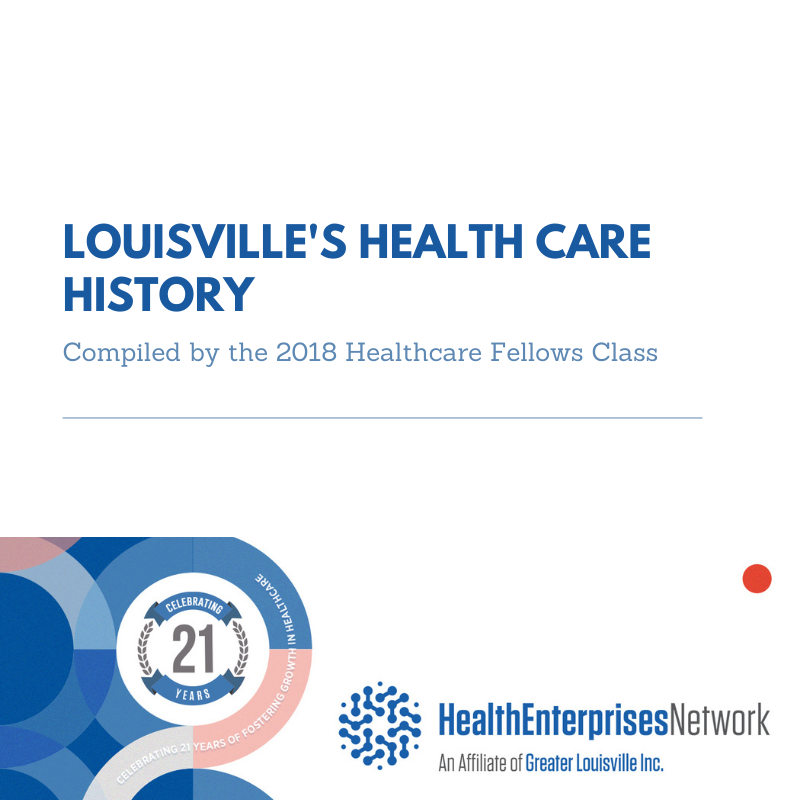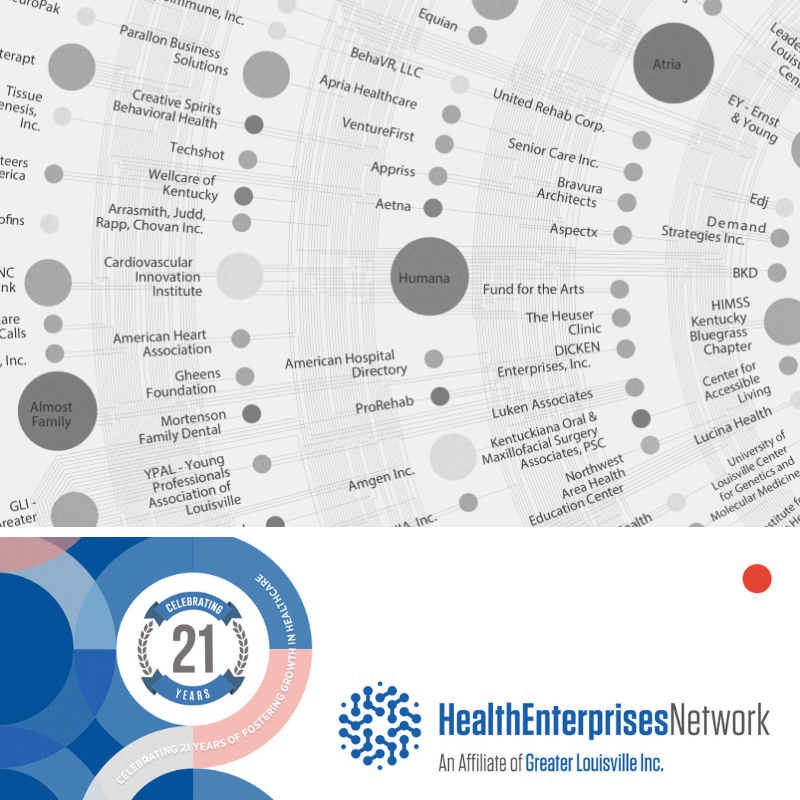 HEN releases the Louisville Map of Health-Related Companies (The Network Map) which is an illustrative document that maps 1422 connections and interactions between 442 companies involved in the local healthcare sector.   The Louisville Map is an update of the Family Tree of Health-Related Companies created in 2003 and was used in attraction and retention pitches, applications for grant and research funding and community partnership conversations.
David Henley, VP and Chief Compliance Officer of Passport Health Plan, is named Chairman of the Board.
HEN launches the Very Innovative Pioneer (VIP) program, an initiative that creates stronger connections between health-related entrepreneurial companies and existing healthcare organizations in Greater Louisville. Work begins on the 2021 Strategic Plan. In 2019 increasing diversity within HEN and integrating diversity into HEN events is named a priority and a task force is assembled, the Diversity Equity & Inclusion (DEI) Committee is established and the DEI Charter is drafted.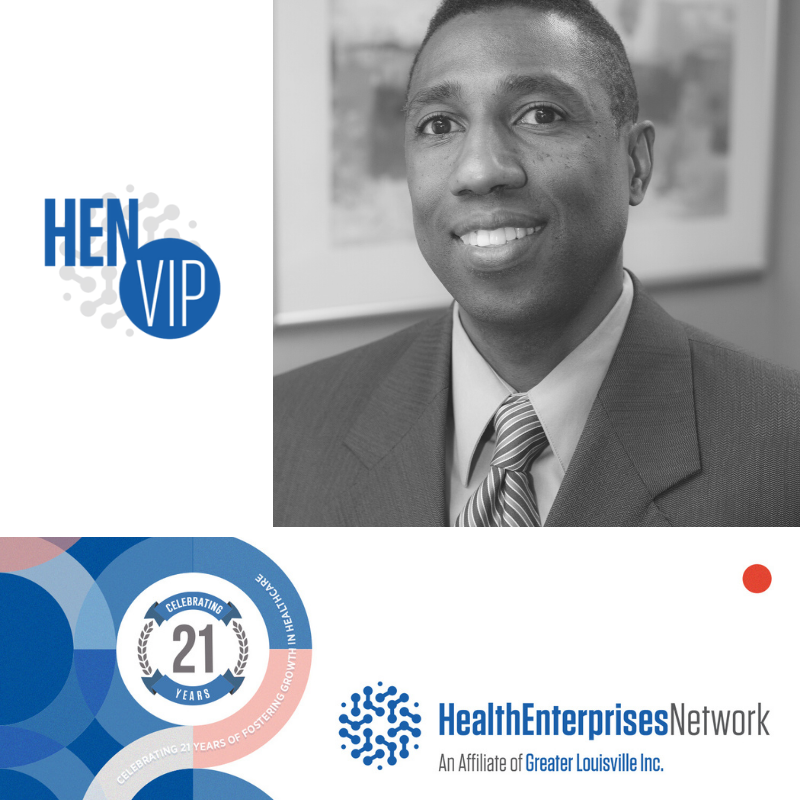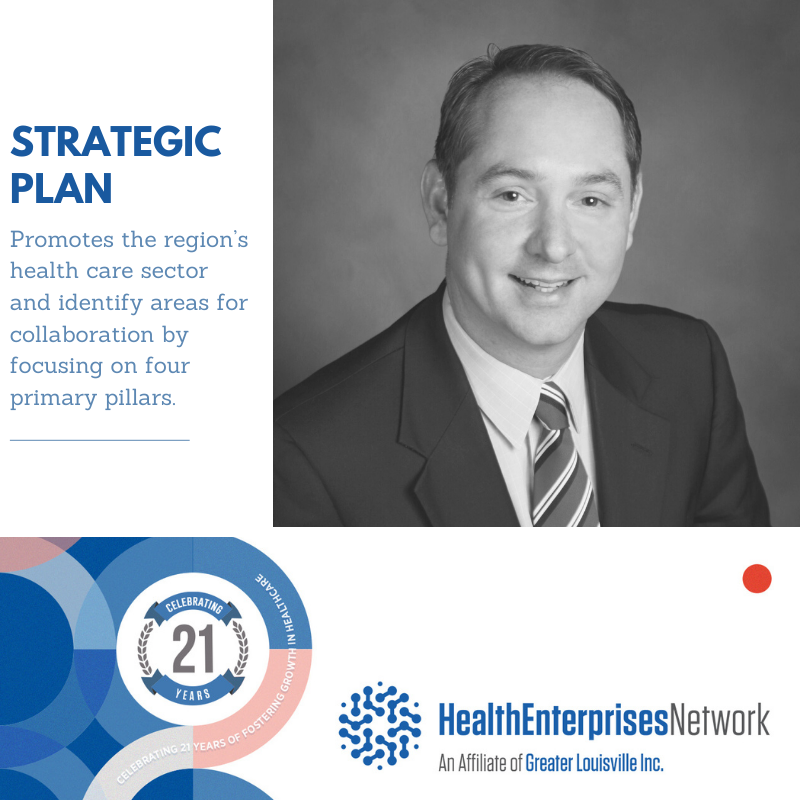 HEN launches the 20221 Strategic Plan to promote the region's health care sector and identify areas for collaboration by focusing on four primary pillars:
1. Healthcare Ecosystem Collaboration
2. Economic Development
3. Member Value & Engagement
4. Branding & Messaging
Tom McMahon, Go-To-Market Leader at Circulo Health, is named Chairman of the Board in 2021.