On May 23, 2019, Health Enterprises Network hosted "Entrepreneurs & Big Cos: Mapping the Path to Collaboration and Economic Growth," an event exploring the benefits and intricacies of working partnerships between startup companies and big and medium-sized corporations.
A panel of successful entrepreneurs and corporate innovators, moderated by Patrick Henshaw [CEO of LEAP – Louisville Entrepreneurship Acceleration Partnership], gathered to share their experience on bringing innovation to the healthcare sector through relationships between corporate and entrepreneurial entities.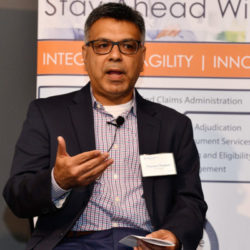 Presenters discussed collaborative innovation from both the corporate and startup perspective. Praveen Thadani, Senior Vice President of Growth Strategy and Trend for Louisville-headquartered Humana, shared his perspective on balancing inherent risk when engaging startups in his role with the insurance heavyweight. "There is the element of introducing risk into the organization, when you're partnering a startup. But you also have to realize and contextualize that the reason we [Humana] are working with a startup is to de-risk our own business." He said, "there is something else going on in our business where we really need to know about your space, the startup space. That's why we're interested in you."
Thadani shared that Humana makes intentional strides to stay tied in with innovation external to the company. When looking for good innovation partners he's looking for three things: performance, patience and relationship. How well can you effectively deliver on your future vision? Do you have the patience to build the partnership? What relationships have you built in the industry (through board members and personal networks)?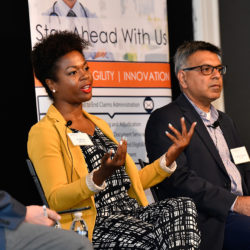 Panelists agreed that collaboration with nimble, startup companies was essential to effective innovation in the healthcare space, and an especially fertile resource for large companies. Often, however, the innovative ideology between the two entities isn't naturally harmonious.
"When we first came out of academia, we thought we would put a bunch of bells and whistles on the innovation. But when we actually talked to businesses, they were not interested in bells and whistles. They were interested in the bottom line." said Angelique Johnson, CEO and Co-founder of MEMStim, a startup company the produces implantable electronics to treat neurological disorders. "Our solution was automating. What our customers cared about was a manufacturing process that could give them the price point they wanted… It might not be sexy, but you're making a profit."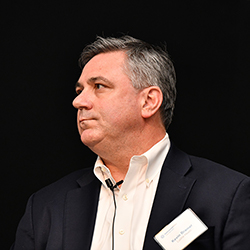 Kevin Bramer, CEO of Lucina Health, an enterprise SaaS startup that delivers women's maternity analytics to innovate health plans, echoed the importance of communication between entities. Highlighting that startups must take the initiative to do their homework on potential corporate customers, he said, "at the end of the day, real value is attributed by carefully listening to the customer, being able to clearly understand a very detailed level what their needs are, and being able to develop a technology, a service, a product that really meets that need." Large corporations ultimately hold the decision-making power in these discussions. To be successful "you have to work with the opportunity and follow their [big company] process," he said.
View video of the full panel discussion here.
The "Entrepreneurs and Big Cos" event also featured a showcase of healthcare and health-related startups, showcasing their innovative technologies and products for attendees. Featured displaying companies are participating members of in Health Enterprises Network's HEN VIP (Very Innovative Pioneer) program, an ongoing initiative that creates stronger connections between health-related entrepreneurial companies and existing health care organizations in Greater Louisville. More information on featured showcase companies is available below. View livestream interviews from the HEN VIP entrepreneurial showcase here. 
—–
Autymate, LLC: Autymate is an easy to use software platform for building integrations between over 120 different business systems. In just a few steps, companies can connect their databases, files, ERPs, CRMs, HR & Accounting Systems, Point-of-Sale… literally any system that's used to run their business. Autymates helps every business system communicate with another so they work together in perfect harmony, automatically.
BehaVR, LLC: BehaVR creates digital therapeutics for behavioral health using Virtual Reality. Their goal is to help people better cope with stress and adverse life events that manifest in chronic pain, addiction, anxiety, depression and higher medical costs due to chronic illness.
Breath Diagnostics, Inc: Breath Diagnostics, Inc. is a Louisville based company formed in 2015 to commercialize the OneBreath™ technology platform. Originally conceived and patented by scientists at the University of Louisville, the OneBreath™ test for lung-cancer detection addresses a substantial clinical need by providing a noninvasive, reliable, fast, and low-cost diagnostic alternative to current options. The OneBreath™ test may also be used to characterize indeterminate pulmonary nodules and monitor for potential post-op cancer recurrence.
ByteMap, Inc:  Healthcare organizations have more data than ever before, but struggle with data consistency and reliability. The data is coming from multiple sources and vendors. Bytemap's SaaS platform eliminates data conflict within the enterprise. Our platform automatically transforms and stores enterprise data into one place, enriches the data with definitions and context that learn over time, and allows people to easily access information and quickly get reliable answers to key business questions.
Cloverleaf Learning: Cloverleaf Learning is a pioneer in online healthcare education. Our "Bootcamp" products serve to support student and workers within general radiography and computed tomography through our library of unique and engaging video-lessons, quizzes, interactive learning tools, and Certification exam prep. Cloverleaf Learning participated in the 2018 XLerateHealth cohort. Our focus, in coming years, is to create high-quality diagnostic imaging and radiation protection compliance products for hospital and healthcare facilities.
Innovative Therapeutix, Inc: Innovative Therapeutix, Inc. is a pediatric-focused device company that solves medical and developmental issues in infants and children, preventing long-term and more complex problems while simultaneously providing opportunities for parent-infant bonding. LullaFeed™, the current product under development, is a music-based feeding device integrated with a baby bottle that allows parents/feeding specialists to support their child through the feeding progression, which is a problem for 60%, or 74 million, infants per year.
Kare Mobile, Inc: Kare Mobile is a mobile dental delivery system with a mobile application.
MedaPrep: MedaPrep is a web based patient engagement and communication platform that utilizes text messages to significantly help healthcare professionals navigate their patients through the preparation of high cancellation procedures or there is a low compliance rate. The backend system allows the staff to monitor the progress of the patient so they know if they need to engage the patient to get them back on track or cancel them so that another patient can be contacted to fill that procedure or appointment time.
MobileServe: MobileServe drastically reduces the costs of mobilizing a volunteer workforce to support health, education, and aging care. Our cloud and app-based software simplifies volunteer engagement by automating scheduling, data collection, verifications, and celebrations. We help organizations to create a positive, connected volunteer workforce, and we help families organize support for their loved ones. We are focused particularly on addressing social isolation through community-building for social good.
My Health E: My Health E is on a mission to change the patient care paradigm by helping to increase health literacy across our nation. We educate, empower and engage patients to help get individual health goals met. We make access to health education easier by providing a nonpartisan web-based platform for accredited health educators to list their classes and events on www.MyHealthE.net. This collaboration raises awareness of all classes and event, and makes it easier for patients to find the health education they seek.
myFamilyChannel: myFamilyChannel is a private TV channel that connects residents, family, and staff. Family members text messages and photos directly to their loved one's TV. Residents view activity calendar, dining menus, and other community information on their TV. Staff communicate with residents and families in real time. The system was designed in collaboration with geriatric specialists to be simple and senior friendly.
OR Link: OR Link is a cloud based workflow management system for optimizing surgery. The operating room is the largest cost center for a hospital, yet surgery is planned around archaic surgeons' Preference Card systems. Hence, to some degree, all surgical teams rely on tribal knowledge of surgical staff. The result is financial waste, inefficiency, compromised patient safety & costly/delayed training of nurses- all improved by our modern communication platform available on web app & iPad.
RCM Brain: RCM Brain is creating a fully autonomous revenue cycle that will eliminate significant labor costs and errors. This is accomplished through the use of artificial intelligence (AI) and bot automation (RPA) to accurately manage claim and payment transactions between healthcare providers and insurance payers. Our technology is built from the ground up using AI capabilities to extract data from any source, self-learn advanced rules, and drive predictive workflow to front line billing staff.
Resonate Recordings: Resonate Recordings is an easier way to podcast. Providing comprehensive podcast solutions for businesses, brands, entrepreneurs, & individuals. Since 2014 we have been committed to building something bigger than a podcast production company. We've accomplished this by bringing together an amazing team, allowing you instant access to the most talented & competent podcasting partner in this industry. Headquartered in Louisville, Kentucky we are committed to developing partnerships, not just performing transactions.
SentryHealth: SentryHealth combines business analytics with clinical expertise to improve the health and well-being of employees and covered dependents while reducing medical, pharmacy, and disability costs for their employers. Our health solutions feature a lower-cost care delivery model led by highly trained clinicians. We have special expertise in chronic care management which enables us to help employees who need help the most, while dramatically accelerating return on investment for employers.
Slingshot: Since 2005, Slingshot has been building custom software applications with a strong focus in Healthcare, working with companies such as RxCrossroads, Aperture, and The American Board of Family Medicine. Currently, Slingshot is developing a mobile application to help clinicians screen pediatric patients for child abuse as well as a statewide telemedicine initiative to connect Child Protective Service workers to Child Abuse Pediatricians with a pilot expected to roll out in early 2020.
Total MINDCARE: Total MINDCARE transforms behavioral health into a modern data-driven disciple that provides broad access to better mental healthcare, faster and more affordably than existing solutions. Total MINDCARE deliveries this superior care through a one-stop online solution that combines AI, digital therapies, community support, personalized medicine and a coordinated human care team.
More information on HEN VIP program is available here.
—–
About Health Enterprises Network
The Health Enterprises Network (HEN) is the region's premier health care business network. Formed by area leaders in 2000, HEN's mission is to champion and foster the growth of the Greater Louisville Region's health care economy. Comprised of 1,100 professionals from 160 investor companies, HEN represents a diverse and growing industry, from hospitals and health services companies to medical device manufacturers and leading health law firms. HEN is the convener that breaks down barriers, opens doors, and is the catalyst for engagement with health care professionals and leaders. Health Enterprises Network is an affiliate of Greater Louisville Inc.
About Greater Louisville Inc.
Greater Louisville Inc. (GLI) – the Metro Chamber of Commerce is focused on growing the regional economy. As the region's largest convener of business leadership, GLI leads economic and global outreach strategies focused on business attraction, nurtures the entrepreneurial eco-system, and champions the development of the community's talent base. As the voice of Greater Louisville's business community, GLI advocates for a pro-business environment and facilitates businesses engagement on issues that impact regional competitiveness. GLI is one of only three percent of chambers nationally certified with 5-star accreditation status by the U.S. Chamber of Commerce, based on GLI's dedicated policy efforts, effective operations, beneficial programs and overall positive community impact. Connect with us on Facebook, Twitter and LinkedIn using @GLIchamber or visit www.GreaterLouisville.com.