It's hard to believe I've been working as Director of the Health Enterprises Network for five months. Since the beginning of this year, I've had the opportunity to get to know many of you, work with your companies, and make an impact on growing the healthcare ecosystem in Greater Louisville. It's been a busy first few months so I wanted to share a brief update on the latest with HEN and what is in store in the coming months:
Strong leadership: Coming into a well-established network with a more than 20-year history in our community I have been pleasantly surprised by the reception new ideas have received. I commend chair of HEN, Riggs Lewis, for his leadership and ability to rally around changes that will position HEN for future success, better align our organization with GLI's economic development strategy, and enhance our member experience.
Healthcare Fellows: Following a successful recruitment, we admitted 25 Healthcare Fellows into the 2022 class, making it one of the largest classes since the program began. We're now a third of the way through the program for this year and have covered a range of topics including innovation, digital health, logistics, and business development. Our next session is scheduled for May 24th and will cover healthcare start-ups and corporate innovation.
Signature Events: Last month, HEN hosted a "Future of the Healthcare Workforce" event headlined by a panel of state and national healthcare leaders. We had over 150 people in attendance, who actively participated in the conversation on how we can support the workforce shortage in the healthcare space. The audience was extremely engaged and their passion for the topic showed that relevance of the event and the importance of an open conversation. Stay tuned as we take key takeaways from the event and put them into action in the coming year.
A growing network: A successful ecosystem is only possible when every health-related business and organization in the region has a seat at the table. What makes HEN an amazing network is that we're able to bring together large and small organizations of all kinds for candid conversations and to take action on shared priorities. We have added several new members to the network since the beginning of the year and I'm looking forward to continuing to expand our reach. Always feel empowered to send me leads or ideas for how we can continue to grow our reach.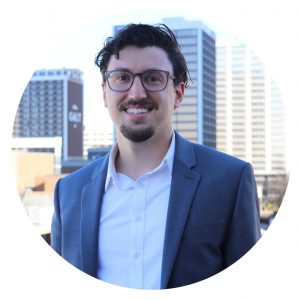 Streamlining our message: The biggest single challenge I've faced in this role is coming up with a single definition and elevator pitch for HEN. Coming in as an outsider this took many conversations with members like you, but I have found the simplest way to describe HEN is as THE healthcare ecosystem incubator of Greater Louisville. Health Enterprises Network is here to tell the story of healthcare innovation in Louisville and how we are working in tandem with GLI to grow the regional economy. We are in a position to enhance the ecosystem in the region to make Louisville the location of choice for all things health-related, and that's a story that I'm excited to help write with you all.
Logan Gatti is the director of the Health Enterprises Network, an initiative of Greater Louisville Inc.