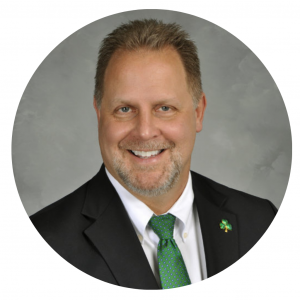 We caught up with Tony Brosky, Dean, School of Movement and Rehabilitation Sciences, College of Health Professions at Bellarmine University (BU), to hear about his work as Chair of HEN's Healthcare Fellows committee.
Hometown: I grew up in the small town of Independence in Northern Kentucky as the oldest of five children.  I've lived in Lexington, KY and spent several years in Wisconsin but ultimately returned to Kentucky in 2003.  We all know that most who leave their old Kentucky home, will at some point return.   
 Family: I am married to my wonderful wife Jean (33 years) who is also a physical therapist.  We have three incredible adult children: Joey (29-Xavier '15) works for Red Bull and lives in Columbus, OH, Daughter Jackie (26-Bellarmine '17) a teacher at Buckner Elementary in Oldham County, and Jacob (24-University of Alabama '21) who lives in Oregon and works with SEAMUS Golf in Beaverton.    
Favorite vacation spot: My wife's family introduced me to New Smyrna Beach, Florida.  We have spent many Easter vacations there with our extended family.  An incredible place where family gathers and I get to spend some time surf fishing on the beach.  
Book on nightstand: Just finished "Demographics and the Demand for Higher Education" and halfway through "The Agile College: How Institutions Successfully Navigate Demographic Changes" both by Nathan Grawe.  I have Leonardo da Vinci's biography (by Walter Isaacson) on my nightstand and hoping to get to it very soon…this one for fun. 
What do you do on a day-to-day basis at Bellarmine University?
My role at Bellarmine as Dean of the School of Movement and Rehabilitation Sciences involves a lot of administrative meetings involving the operations of programs, budget review, recruitment, retention and enrollment, continuous pursuit of academic excellence, how we can address/meet workforce needs, supporting faculty and students, and did I mention the ongoing challenges associated with pandemic? There are no shortages of challenges in higher education right now, but it's still hard to find a better value than a college degree and a Bellarmine experience. 
What is the most exciting initiative going on at BU?
There always seems to be something exciting going on at Bellarmine.  Our university and beautiful campus has undergone an incredible transformation in the past 10-15 years.  What has received the most attention over the past two years is the ongoing implementation of the Strategic Plan, responding and preparing for demographic shifts, and our transitioning to NCAA Division I into the ASUN conference.   
Why did you want to be the vice chair of the Healthcare Fellows committee?
I had a really good personal/professional experience with the HEN Fellows program (Fellows Class of 2015).  I wasn't looking for any additional extra-curricular activities at the time but remember the advice of a former colleague and mentor who reminded me how important it is to: "show up, listen, and say yes when you can."  And to be able to collaborate and engage with the talented and innovative HEN members is simply an opportunity to both learn and serve. 
What do you hope to accomplish this year on the committee?
Continue to contribute to a hallmark program and an organization dedicated to better understand and promote the Health Care Ecosystem in our region.  Louisville has some incredible organizations involved with health care delivery and innovation and there has never been a more important time than now to address challenges and seize new opportunities.  The HEN Fellows program provides some great networking opportunities for current and emerging leaders.  Case in point: I met Sheri Rose (CEO-Thrive Center, Inc.) during our Fellows experience and we have remained close personal and professional friends facilitating and collaborating on a number of fun and innovative projects and initiatives.   
What do you see as your biggest challenge? 
The biggest challenges in my opinion are in some way related to the lasting barriers created by the pandemic.  People feeling stressed/burned out, restricted organizational budgets and maybe being a little hesitant to participate because work and family demands have increased, real or perceived.  Aside from the networking opportunities, engagement with local healthcare leaders and exploring our health care ecosystem, the authentic community created within the Fellows Program is one of the greatest benefits of participation.  We may need to work just a little harder to get the message out.