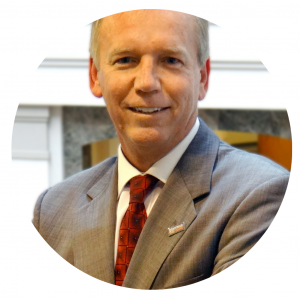 We caught up with Sean Muldoon, MD, MPH, FCCP, Chief Medical Officer at Kindred Hospitals/ScionHealth, to hear about his work as the Chair of the HEN Member Value & Engagement committee.
Hometown:  Pittsburgh, PA
Family: I have a wonderful, blended family with Jill Mangold.  We have 4 adult children, all in Louisville and fully launched!
Favorite vacation spot: Our most extravagant have been hiking in the Alps and Andes, but a 4-5 day camping vacation anywhere suits me just fine.
Book on nightstand: I keep a serious and fun one.  Amanda Gorman's The Things We Carry is my newest.  That woman can change the world with words.  Then there is always a Jack Reacher crime stopper.  He's inspirationally….direct and results oriented.
What do you do on a day-to-day basis at Kindred Hospitals/ScionHealth?
I keep up with and advise the Executive Team on things that are about science, policy and physician related.  I also write or edit much of our social media campaigns and help our hospital operators think through their challenges.
What is the most exciting initiative going on at Kindred?
As part of ScionHealth, we are building a new company that will integrate and operate both long term and short-term acute care hospitals under a single management structure.  For me, this will require learning about broader aspects of hospital and outpatient care and medical staff relations.
Why did you want to be the vice chair of the HEN Member Value & Engagement committee?
Selfishly, I wanted to get more connected with the local healthcare community and the city's economic development.  For me, there is a great mix of giving and getting as part of HEN's leadership team.
What do you hope to accomplish this year on the committee?
We have three subgroups in our committee.  The Fellows program is well developed and just needs to nudge towards excellence in further developing already established leaders. Our Policy program is thinking through a multiyear strategy as we balance the varied and often competing needs of our members, yet maintain knowledge of and ideally, an influence with the policymakers. Our 2022 Policy events will reflect this.  Lastly, our Branding and Messaging group will be expanding its reach to new companies in Louisville, showing the value of membership in HEN, and working with GLI to promote the Louisville healthcare community to growth related companies and policymakers.
What do you see as your biggest challenge?
As a volunteer organization, the activities of HEN have to be worthwhile and rewarding.  Our board members and their companies are by definition, assertive citizens and energetic business people. Therefore, we have to compete for their attention.  Our Chair Tom McMahon and new Director Logan Gatti have certainly channeled my attention.  We have to spread that enthusiasm across all board members and Louisville healthcare leaders.