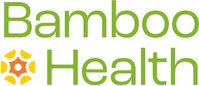 President and General Manager: Rob Cohen
Year founded: 1994 (parent company, Appriss); New company name launched August 31, 2021
No. of employees: 329
Mission/Vision
Mission: To enable our customers to optimize value-based outcomes by delivering information, actionable insights, and support for the delivery of whole person care through payer and provider collaboration.
Vision: To revolutionize healthcare in the U.S. by connecting every payer, provider, and care team member to address whole person care.
Bamboo Health is a healthcare technology solutions company, focused on fostering care collaboration and providing information and actionable insights across the entire continuum of care. As one of the largest, most diverse care collaboration networks in the country, our technology solutions equip healthcare providers and payers with software, information, and insights to facilitate whole person care across the physical and behavioral health spectrums. By serving 2,500 hospitals, 7,800 post-acute facilities, 25,000 pharmacies, 37 health plans, 45 state governments, and over one million acute and ambulatory providers through more than 500 clinical information systems electronically, we impact over 1 billion patient encounters annually in provider workflow. Health systems, payers, providers, pharmacies, governments, individuals, and other organizations rely on Bamboo Health to improve care and reduce cost. 
Tell us about Bamboo Health's roots to Louisville.
Bamboo Health was born out of our parent company, Appriss, which was founded as the VINE company. Louisville is the hometown of co-founder Mike Davis. Louisville continues to be the home of the corporate offices for Appriss as well as Bamboo Health, which is also opening offices in Boston in 2022 following the May 2021 acquisition of PatientPing which was based in Boston. Many Bamboo Health employees also work fully remote from locations across the country.
What is one thing you wish others knew about your company?
Bamboo Health has one of the largest, most interoperable care coordination networks in the nation. Care collaboration has traditionally been a challenge because of the business and organizational silos between physical and behavioral health, care teams, and payers. Our network allows communication to flow among these groups, improving whole person care and patient outcomes.
What makes your company different from competitors?
Our vast network distinguishes us from competitors. Bamboo Health supports more than 2,500 hospitals, 37 payers, 7,800 post-acute facilities, 25,000 pharmacies, and 45 state governments. The network supports the exchange of information and actionable insights that support more than one billion patient encounters each year.
Have you had to pivot strategies over the years?
We look for large problems that affect our society and see if there are ways technology can help solve the problem and create social good. Appriss first began its ventures into the health arena by partnering with state governments to prevent diversion of over-the-counter cold medicine into the production of methamphetamine through a technology solution. As the manufacturing of meth declined, the prescription opioid epidemic grew so we once again partnered with states and the National Association of Board of Pharmacy to launch electronic prescription drug monitoring programs. We expanded our impact in the behavioral health space with the acquisition of OpenBeds, a comprehensive behavioral health capacity management and referral technology solution. Finally, we moved beyond the behavioral health space with the acquisition of PatientPing, the nation's leading care collaboration platform, earlier this year. Today, we are working to facilitate whole person care across the spectrum of physical and behavioral health.
What makes Louisville a good home for your company?
Louisville is a great size for a company like ours. It's a good size – big enough to provide plenty to see and do, but not so big that it is overwhelming. It's also affordable which makes it attractive for young professionals and those with families. Because we also support a remote workforce, Louisville is attractive for our employees who may not live here fulltime but enjoy coming to visit for meetings and training.
Is there anything else you'd like HEN members to know about Bamboo Health?
You may be wondering why we chose the new name, Bamboo Health. Bamboo is a symbol of strength, flexibility, and health. The name reflects our commitment to deliver whole person care coordination to improve health outcomes, while adapting and expanding quickly to serve a rapidly evolving healthcare landscape.