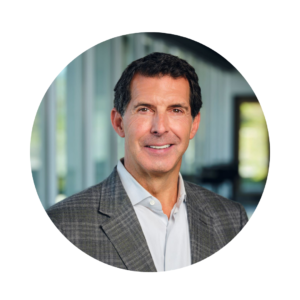 Successful companies are diverse and inclusive. Companies have a responsibility to be good citizens, serve the underserved and be open to different perspectives. Business leaders across healthcare and all industries have a responsibility to lead by example.  We can do good and do well at the same time.
Paul J. Diaz, President & CEO, Myriad Genetics
HEN is proud to celebrate Hispanic & Latinx Heritage month by highlighting a healthcare leader in our region who has positively influenced and enriched our community.
Paul J. Diaz is the former president and chief executive officer and vice chairman of Kindred Healthcare, a Fortune 500 Company and one of the largest providers of healthcare services in the United States. At the time, Kindred had revenues of $7.2 billion, rehabilitation hospitals, sub-acute units, home health and hospice agencies and contract rehabilitation locations. For six years in a row, during his tenure as CEO, Kindred was ranked one of the Most Admired healthcare companies in the U.S. by Fortune magazine.
Diaz was named president, chief executive officer and member of the Myriad Genetics board of directors on August 13, 2020. He was most recently a partner at Cressey & Company (2016-2020), a private investment firm headquartered in Chicago, Illinois, which currently manages over $3.0 billion in committed capital. Cressey & Company is a healthcare focused middle-market private equity firm with over 30 years of success investing in and helping to build high quality healthcare businesses.
We talked to Diaz about projects he's most excited about at Myriad Genetics, his proudest accomplishment while CEO of Kindred Healthcare and advice he has for young Latinos starting out in the healthcare industry or the business world. Highlights are below.
What was your most proud accomplishment while CEO of Kindred Healthcare? 
When I joined Kindred Healthcare in 2002, the company had just emerged from bankruptcy and there were operational challenges. I am most proud of how everyone never lost heart and stayed focused on the mission of customer service and quality care. As the organization transformed, it always stayed true to its values and still does today. As a result, Kindred remains one of the largest and most admired healthcare companies in the country. I am grateful for the opportunity to have played a part in that and proud of the caring support that the more than 100,000 Kindred Healthcare teammates provide for patients across the care continuum, from hospital to home.
What is one thing you learned about Louisville as a healthcare ecosystem?
I continue to be struck by the innovation in the Louisville healthcare community. I learned firsthand that innovation stems from collaboration. The strong history of excellence in health and aging care continues to fuel innovation and growth. Regardless of size, healthcare organizations are committed to being entrepreneurial and continue to work in new ways to raise the standard of care.
You're currently the CEO of Myriad Genetics, can you tell us more about the company?
Thirty years ago, Myriad Genetics played a pivotal role in one of the most important breakthroughs in the history of healthcare: discovering the precise location and sequence the BRCA1 and BRCA2 genes, which increase the risk of breast cancer. This led to the emergence of genetic testing as a tool that has saved millions of lives.
Myriad Genetics continues to be a leader in genetics and precision medicine, applying the power of data-driven genetic insights across Women's Health, Oncology and Mental Health. Our mission is clear: To advance health and wellbeing and empower every individual by revealing the answers inside each of us. We do this by providing vital insights that help people take control of their own health and enable healthcare providers to better detect, treat and prevent disease. 
What are some of the projects or initiatives you're most excited about at Myriad Genetics? 
We are one year into executing an end-to-end transformation and growth plan. I'm most excited about fulfilling our mission of improving health and wellbeing for all. We are meeting the pressing need to extend genetic testing to every individual. Our purpose is meaningful, and our 2,700 Myriad teammate are passionate about it.
Myriad Genetics is the first and only lab to create a hereditary cancer test that improves personalized risk prediction and removes disparities for women of all ancestries. With an inclusive approach to personalized breast cancer risk assessment, we can provide vital genetic insights for all women.
We are also addressing the crisis in mental health. Our GeneSight mental health medication test helps reduce trial and error for patients struggling to find the antidepressant that works best for them.
Additionally, working with other industry leaders and healthcare systems, we are advancing precision oncology with combined tumor profiling and companion diagnostic tools to make a meaningful difference in cancer care. We are also launching new capabilities that make pre-natal testing easier and more precise.
I could go on, but these are just some of the ways we are elevating our products to full potential.  At the same time, we are building new tech-enabled commercial capabilities to reposition our brand and improve the customer experience.
How did you begin your career in healthcare? 
As I was growing up in Miami, my mother worked in the billing department of a hospital. My grandfather was a surgeon in Cuba. In some ways, I guess, I was meant to work in healthcare. I spent many hours in the hospital and seeing how things got done. I didn't realize it at the time, but it turned out to be a good early training ground. Now being at Myriad Genetics I am energized by the opportunity in the growing field of genetic testing and precision medicine.
Who was an early mentor for you that helped you shape your professional career?
There are many individuals who have helped shape my career and continue to do so to this day:
While practicing law, I was fortunate to meet mentors like Harvey Wertlieb, founder of the Educational Institute for Long-Term Care and Roger Lipitz whose nursing center became Allegis – a post-acute company offering sub-acute, skilled nursing, rehabilitation, and pharmacy services – and later Mariner Health. I had good financial skills and the legal part down, but they taught me the business from a patient and provider perspective.
Eddie Kuntz, Kindred's former president and chairman recruited me to Kindred and helped me understand the broader issues like how to lead from the front.
I had the opportunity to partner with talented people like Ben Breier who succeeded me as CEO, and Jason Zachariah who has recently been named as Kindred's new CEO.
And most recently, I've had the privilege to work with and learn from Bryan Cressey, the founder of Cressey & Company, and Peter Ehrich, managing partner at Cressey & Company, the private equity firm I worked at before joining Myriad Genetics.
What's one piece of advice you remember most clearly? What accomplishment are you most proud of? 
I have been fortunate to see firsthand how many successful leaders lead. Watching and learning from them, I have seen that when you take care of your teammates, put patients at the center, focus on quality and the customer experience, business results will follow. I have always tried to apply those principles, along with the fact that we are human first. You can be a caring human and business leader at the same time. By far my proudest accomplishment is having my wife Viki as a partner and raising our three children Angel, Jackson and Reyna.
What advice do you have for young Latinos starting out in the healthcare industry or the business world?
I would encourage young Latinos to think about how their talents can meet the needs of employers in healthcare and business. Be yourself and apply yourself. Life is about leveraging your collective experience.
How can companies empower diversity to drive better business outcomes? 
This goes back to being caring and human. These attributes are critical to all kinds of businesses and organizations. But in addition to the human side, we need to be disciplined about how we fulfill our mission and drive our business results. Successful companies are diverse and inclusive. Companies have a responsibility to be good citizens, serve the underserved and be open to different perspectives. Business leaders across healthcare and all industries have a responsibility to lead by example.  We can do good and do well at the same time.