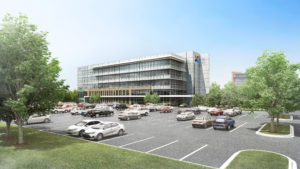 Baptist Health has officially broken ground on a major outpatient medical center known as Baptist Health Breckenridge. Plans for Baptist Health Breckenridge include a five-story office building on a 6.5 acre site on the corner of Breckenridge Lane and I-264, which was formerly occupied by the Breckinridge Inn. The 126,800 sq. ft. facility will house physician practices, an ambulatory surgery center, urgent care, physical and occupational therapy, imaging, laboratory services and a retail pharmacy.
"The healthplex we're planning here is just one building block in Baptist Health's $1 billion strategic plan to make healthcare more convenient for patients in all of the communities that we serve," said Gerard Colman, CEO of Baptist Health. "We want to deliver care near where patients want to receive care, with an emphasis on freestanding locations such as this one."
Monday's groundbreaking ceremony included comments from Gov. Andy Beshear who discussed the impact the project will have on health in the state of Kentucky.
"Health care is a human right. Breaking ground for this new facility is an important milestone both for Baptist Health and for all of the families it will serve from Louisville and the surrounding region," said Gov. Beshear. "When we invest in greater health care access, we are investing in our future and building a better Kentucky."
State Senate Democratic Floor Leader Morgan McGarvey was also in attendance, and praised the access to health care that Baptist Health Breckenridge will provide.
"If the last year and a half has taught us anything, it's that although the health care needs of Kentuckians are high, we have some of the finest doctors, nurses and health care professionals in the country right here in Louisville," said Sen. McGarvey. "We've faced a lot of challenges, but the groundbreaking on this new outpatient care center shows that Baptist Health continues making access to quality health care a top priority."
Josie Raymond, State Representative 31st Legislative District, noted the impact of Baptist Health Breckenridge from an economic standpoint in addition to the health care services the project will provide.
"Baptist's expansion could not be more welcome, as this area continues to establish itself as the medical hub of Louisville," Rep. Raymond said. "This shows our commitment to health and wellness, to good-paying jobs, and to a culture of care that should only deepen after the pandemic."
Louisville Mayor Greg Fischer, another featured speaker at the groundbreaking, commended the important role Baptist Health continues to play in the overall health of the city.
"Baptist Health has been a tremendous partner as our city has confronted public health challenges, particularly during the COVID-19 pandemic," Mayor Fischer said. "This new facility will be an exciting new step in the Baptist Health system's efforts to provide the best health care possible to residents so they can stay healthy and strong and, if needed, get better."
The site of Baptist Health Breckenridge sits less than two miles from Baptist Health Louisville's campus. The project also encompasses renovations to nearby existing medical office space on Kresge Way and Dupont Circle, following the relocation of existing physician practices. When complete, Baptist Health Breckenridge will serve as a primary care hub, with 144 treatment spaces for more than 50 providers.
"In addition to new services we will add with the proposed development, the relocation of current physician practices from the hospital campus will allow us to enhance patient care by increasing our number of specialty physicians and improving hospital access for those physicians," said Larry Gray, President of Baptist Health Louisville. "It all amounts to more and better care for patients."
Construction on Baptist Health Breckenridge will be completed over a two-year, phased plan. The developer and owner of the project is an affiliate of The McMahan Group. Key partners in the project include TEG Architects of Jeffersonville, BTM Engineering and Abel Construction of Louisville.
According to DiAnne Hutcherson and Rory McMahan, Co-Managers of the McMahan Group, "The new medical office development is part of our commitment to the Hikes Point neighborhood."
DiAnne Hutcherson stated, "Our family has been in Hikes Point for almost 75 years and in the past few years we have aggressively rebuilt McMahan Plaza to strength the retail shopping in the area and redeveloped the former Kmart building into a multi-purpose medical facility."