In March 2019, increasing diversity within HEN and integrating diversity into HEN events was named a priority and a task force was assembled. ​In August 2019 a Diversity Equity & Inclusion committee was established and by May 2020 a charter was approved.
HEN Diversity Statement: The Health Enterprises Network (HEN) believes it is extremely important to support and protect diversity, equity, and inclusion​. HEN recognizes that diversity, equity, and inclusion is a reality created by individuals and groups from a broad spectrum of demographic and philosophical differences. HEN and its membership began by recognizing inequities and commit to directly addressing them in the actions taken.  Read DEI Charter.​
The purpose of the DEI committee is to:
Make recommendations to the Board regarding diversity, equity, and inclusion matters.

​

Monitor HEN activities to ensure that diversity, equity, and inclusion goals are always considered.

​

Develop, maintain, and update a list of individuals and organizations that represent diversity 

(gender, ethnicity, sexual orientation, etc.) within Greater Louisville, a region which is made up of 15 

counties surrounding the Greater Louisville and Southern Indiana areas.​

​

Provide the Board and Board Committees with diversity demographics within the Greater Louisville 

region.​

​

Make the Board and Board Committees aware of healthcare-related diversity, equity, and 

inclusion events and activities and promote stories, individuals, events and activities related to heritage 

months.​

​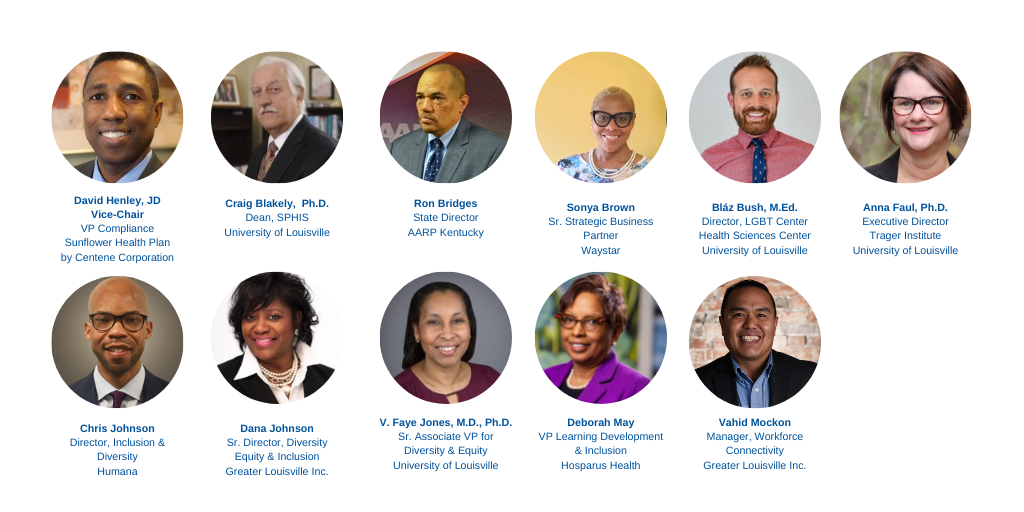 The Committee functions in an advisory role to the Executive Committee and the Board and will focus their efforts in regards to the following identified areas:​ Access, Awareness, Education, Communication and Track.  The Committee helped other HEN committees create diversity goals in order to increase opportunities for underrepresented populations to attend and succeed at HEN.  The Committee also created a Community Resource Guide which will is available to HEN members​. See Community Resource Guide.
The Committee will also ensure the Board receives one training on diversity, equity, and inclusion by December 31, 2021.​ This training, "Implicit Bias Awareness: Reduce the Influence of Implicit Bias in the workplace," ​will be facilitated by Vahid Mockon, MSBC, Manager, Workforce Connectivity, Greater Louisville Inc.​ The learning objectives include: 1) Distinguish concepts and terminology; 2) Understand the prevalence of unconscious/implicit bias; 3) Recognize the impact of unconscious/implicit bias; and 4) Identify steps to challenge our unconscious/implicit bias​.
At least annually, the Committee will review and reassess the adequacy of the Charter and recommend any proposed changes to the Board for approval.​ At least annually, the Committee will evaluate its performance and the performance of the Committees.
Healthcare Fellows Goals:
HEN will intentionally recruit a diverse class for its Fellows Program 

each year reflecting the diversity of our community.  

​

Target: minimum of 30% from under-

represented groups/minorities.

​

Recruitment materials, methods and reach (distribution).

​

Application Materials (include optional self-reported questions re: 

background, race, gender identity, religion, etc.) 

​.

HEN Fellows Program presenters will represent a diversity 

of backgrounds, organizations, and missions having direct impact and 

influence on our diverse and dynamic healthcare ecosystem.

​

Each HEN Fellows Curriculum and projects will incorporate multi-

cultural content and diverse perspectives that recognize and celebrate 

values of inclusion, ethical and social responsibility, compassion, and 

authentic community engagement within our healthcare ecosystem.

​
Nominating Committee Goals:
Increase the number of women on the Board to 35% over next 2 

years.  

​

Increase the number of people of color on the Board to 20% over next 

3 years.
Branding & Messaging Goals:
Increase outreach to minority owned business or leaders.

​

All future HEN panel discussions should have diverse representation.

​

Highlight DEI efforts in the community with at least one feature a 

month.

​
​Health Policy Forum Goals:
Include diverse representation in all panel discussions.

​

Engage DEI committee for appropriate questions to ask panelists during 

forums.

​

Monitor legislation related to healthcare diversity, equity and inclusion.

​
Investor Development Goals:
Actively recruit 5 new companies that include minority business leaders 

or serve the DEI community.

​

Work with new member companies to engage at least 1 DEI member of 

their team in HEN activities.

​
​​