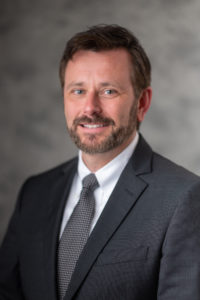 Hosparus Health announced the appointment of David Cook as president and CEO. In his new role, Cook will lead operational and strategic efforts at the not-for-profit hospice and palliative care organization to drive innovation, enhance quality, expand community partnerships and increase access to services for patients and families navigating serious illness in Kentucky and Indiana.
Cook has more than 20 years of operational and financial leadership experience within the healthcare and nonprofit sectors. He comes to Hosparus from Carolina Caring in Newton, N.C., where he has served as CEO since 2018.
A native of the Louisville area, Cook previously spent 15 years at Hosparus Health in operations, serving in key leadership roles, including chief operating officer. He earned a bachelor's degree in business administration and an MBA from Indiana University Southeast. He serves on the boards of the National Partnership for Healthcare and Hospice Innovation and Teleios Collaborative Network.
Cook was selected after an extensive nationwide search. Hosparus Health board members Cathy Zion and Cis Gruebbel have served as interim co-CEOs since the retirement of former President and CEO Phil Marshall earlier this year. Cook will begin his duties on Sept. 7.
In making the announcement, Board Chair Kevin Wardell said, "We are delighted to have David re-join the Hosparus Health team. His leadership abilities and innovative approaches to serious illness care will help grow the mission of our organization and increase our ability to serve individuals in our community who need advanced illness and end-of-life care."
"More than 40 years ago, Hosparus Health was started by a group of volunteers who believed there was a better way to care for those facing serious illness," said Cook. "Hosparus has always been an innovator in finding solutions to meet the needs of our community. I look forward to ensuring the vision of our founders is never lost. We must continue to advocate for equity and compassion for all who are living with serious illness."
Hosparus Health is one of the largest nonprofit hospice and palliative care organizations in the United States. Hospice services are provided under the Hosparus name, and palliative care services are offered through its companion brand, Pallitus Health Partners.