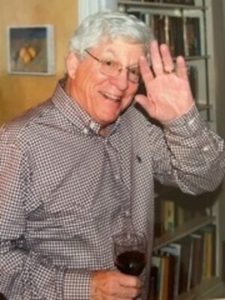 Long-time HEN board member, James Shannon "Jim" Rives, Jr., age 78, passed away on April 20, 2021, in Louisville, KY. Jim was born in Lexington, KY, and spent his early years in Frankfort, KY.
He was a graduate of the Kentucky Military Institute (KMI). Louisville was home to Jim and his late wife, Anne Finnegan Rives, for over 50 years. His beloved children survive him: James Shannon Rives III (Jim) and Sarah Rives Johnson and her husband Vince. He will be lovingly remembered by Michelle Rives Sorricelli, daughter of his heart. Also left behind to cherish his memory are his grandchildren: Shannon and Katie Rives; Ryan, Alex, and Molly Johnson; Captain Steven S. Bauer and his wife Mandy and their children: Wyatt, Gracie, and Gunnar. Jim is also survived by his sister, Susan Schwartz, her husband Barry and their family; brother in-law George Spalding and his family. Several nieces and nephews and their families were special to Jim including Brad Rives, Dean Spalding, and Mara Spalding Legere. The Finnegan family was an integral part of Jim's life and he was grateful for the many celebrations shared with Anne's family, especially her brothers Doug and Tom Finnegan.
A graduate of the University of Kentucky, Jim was a member of the Kappa Alpha fraternity. After serving in the United States Army for three years at Fort Devens, Massachusetts, Jim returned to Louisville to join his family business, Butler Store Equipment. He served as President of the company which was eventually sold to an international firm.
A career change led Jim to service in state government. He was Assistant Secretary of Commerce during Governor Martha Layne Collins' administration. Another of Jim's accomplishments was the development of the Center for Small Business at the Louisville Area Chamber of Commerce (now GLI). He served as vice-chairman of the Center and focused on the development of growth companies. He was awarded the 1994 Entrepreneur of the Year by Ernst & Young INC Magazine for his support of entrepreneurship.
Jim started his own consulting company, Rives Development Associates, a management consulting and strategic advisory firm. He worked primarily with healthcare and technology businesses. Jim served on the Norton Psychiatric Council for many years and on the U of L Depression Center Advisory Council.
Jim was preceded in death by his wife, Anne Finnegan Rives; his parents, James Shannon Rives Sr. and Mary Bethel Rives; his sister Mary Ann Spalding; his brother Robert C. Rives (Bob), and his great grandchild, Forrest Robert Bauer.
An avid golfer, Jim had formerly been a member of various country clubs including Harmony Landing, Oxmoor, and Hunting Creek. A life-long Catholic, Jim sang in the choir for many years at the Cathedral of the Assumption. Inspired by a personal experience, Jim developed a passion for expanded access to Automated External Defibrillators (AEDs) and testified before the Congress of the United States to promote their use.
Jim adored his grandchildren and supported them in their various pursuits — basketball, golf, field hockey, dance, cheerleading, and academics. He was enormously proud of his grandson, Steven, and his career in the military. Jim's grandchildren affectionately called him "Doc."
Visitation will be Monday April 26, 2021 from 4 – 7 p.m. at Pearson's, 149 Breckenridge Lane. A Funeral Mass will be held 10 a.m. on Tuesday, April 27, 2021 at Holy Trinity Catholic Church, 501 Cherrywood Rd. Private interment will occur at a later date.
The family requests, in lieu of flowers, that memorial gifts be made to the charity of the donor's choice.