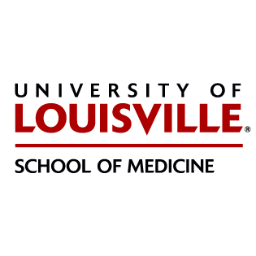 President/CEO: Toni M. Ganzel, MD, MBA, FACS, Dean of University of Louisville School of Medicine
Year founded: 1837
No. of employees: 3,031
No. of medical students: 654
No. of graduate students: 248
No. of residents & fellows: 658
Mission/Vision:
The mission of the University of Louisville School of Medicine is to improve the health of our patients and the diverse communities we serve through excellence and leadership in education, patient care, research, and community engagement. We are nationally recognized for our leadership in health education and clinical care, and value being a diverse academic community committed to integrity, excellence, innovation, and accountability.
Our vision is that our students, faculty, and staff will be prepared for 21st Century challenges; our patients will experience exceptional care; and our communities will be healthier as a result of our patient care, research discoveries, and community engagement. We demonstrate compassion, teamwork and collegiality in all we do.
Awards​
MediStar Award for Leadership and Innovation in Academic Medicine (LIAM)
MediStar Award for the Traeger Institute on Optimal Aging
Organization Leadership Award at the LGBT Health Workforce Conference
BlueJeans Best-of-Breed Awards for Most Innovative Use Case
Louisville Business First Healthcare Heroes Award recipients
Kentucky Medical Association Educational Leadership Award recipient
What are UofL School of Medicine's roots to Louisville?
The University of Louisville School of Medicine is a vibrant institution with a proud heritage as one of the most comprehensive medical facilities in the southeastern United States. The school traces its beginnings to 1833, when the Louisville Common Council set up a committee to investigate the possibility of establishing a medical college in the city.
Today, the University of Louisville School of Medicine, under the leadership of Dean Toni Ganzel, continues to educate some of the nation's finest medical practitioners. In fact, it has graduated more doctors than any other institution in the Commonwealth. With its excellent teaching and research facilities, newly endowed chairs, strong leadership and outstanding clinical affiliates, the University of Louisville School of Medicine holds a future filled with promise, built on a past distinguished by excellence.
What are some of the significant accomplishments and milestones for the School of Medicine? 
The School of Medicine is the ninth-oldest medical school in the United States, educating physicians and scientists of the commonwealth and beyond for more than 180 years.
First medical school in the U.S. to fully implement the teaching of LGBTQ health competencies across the four-year curriculum.
UofL surgeons performed the first artificial heart implantation, the first heart transplant in Kentucky and the world's first heart transplant following the use of an LVAD device.
UofL surgeons performed the first five hand transplants in the United States in partnership with the Kleinert and Kutz Hand Care Center and Jewish Hospital.
UofL researchers pioneered the use of epidural stimulation and locomotor training, enabling individuals with complete spinal cord injuries to stand and walk again.
UofL distinguishes itself as an exemplar of Environmental Health research.
UofL faculty and staff organized LouVax, the metro-area COVID-19 vaccination drive in collaboration with the Louisville Metro Public Health Department, modeling after the first-ever drive-through mass vaccination in 1995.
As part of its Signature Partnership Initiative, the School of Medicine works with more than 10 local groups to improve education, health, wellness, and social status of families living in our urban core.
Have you had to pivot strategies over the years?
At the University of Louisville School of Medicine, we are always adapting to create knowledge to heal and translate healing into compassionate care through the advancement of all pillars of our mission in order to ensure quality care for everyone.
When focusing on education, we provide our students with the knowledge and skills to be prepared for a changing healthcare environment and closely link the attributes of our graduates with the values that healthcare systems and communities are expecting in young physicians. Knowing that population health has become as important to consider as individual health, our clinical care has far more emphasis on health outcomes, monitoring health outcomes, and ensuring high-quality care. The research discoveries we are making to transform the health of our patients is central to what we do. Our focus on not only basic research but also translational research and clinal trials is imperative.
Today, a person's zip code is a more powerful predictor of health status than their genetic code. We understand that social determinants of health are key in achieving our mission of improving the health of our patients and the diverse communities we serve, and we are actively engaging our community partners for a shared vision of health equity and service learning.
In the past year as we have responded to COVID-19, we have truly perfected the art of "pivot". We have transformed our learning to the virtual environment, leading digital simulations and on-screen interviews. We have ramped down elective surgeries and non-COVID research while ramping up telehealth. We have expanded our ability to serve our community as a resource for COVID-19 testing, treatment and distributing vaccines. We've now ramped back up surgeries, all research, and plans for face-to-face education. Altogether, we are providing support and service to our students and communities where they need it the most.
How do you partner with the healthcare community?
The School of Medicine is the beating heart of health care in the greater Louisville region. Together with UofL Health, our clinical faculty provide critical service to millions, fuel the pipeline of health care providers, and serve as an economic engine for local employment.
As Kentucky's largest academic health system, UofL Health combines world-class expertise with a state-wide commitment to serve the underserved, reduce barriers to care and increase access for all. With more than 400 clinical faculty, our physicians care for more of the patients from the federally designated Medically Underserved Area than other health systems combined. Additionally, our clinical faculty comprise the majority of the physician staff at the Rex Robley VA Medical Center.
In March of 2020, the UofL Department of Pediatrics and other pediatric service lines within other departments at the School of Medicine, such as child neurology and pediatric surgery, integrated with our health care system partner, Norton Healthcare and Norton Children's Hospital.  This integration led to the creation of Norton Children's Medical Group, a unique entity and the official University of Louisville Pediatric Faculty Practice Plan. This combination of the academic resources of the University of Louisville School of Medicine and the clinical resources of Norton Children's Hospital, is achieving the mission of collaborating for healthy children and families.
With more than one-third of our medical graduates remaining in the Commonwealth, the UofL School of Medicine is providing care to communities throughout Kentucky. In addition, our Department of Emergency Medicine continues to train and provide direction for all area EMS service providers, reaching thousands with critical care assistance.
How is research at the School of Medicine fostering medical innovation?
Clinical faculty from the School of Medicine were the first in Kentucky to perform an investigational procedure designed to help patients with chronic obstructive pulmonary disease, or COPD. The procedure, known as targeted lung denervation (TLD), may provide an additional treatment option for patients suffering from frequent COPD flare-ups, or lung attacks. New research by School of Medicine faculty with colleagues at Harvard University could prevent dangerous and potentially life-threatening side effects from the delivery mechanism for targeted gene therapies meant to slow everything from muscle atrophy to vision loss. And researchers from the Department of Microbiology found a less toxic way to deliver medicines by using the natural lipids in plants, particularly grapefruit and ginger.
At UofL's Christina Lee Brown Envirome Institute, researchers have shown that living near an abundance of green vegetation can offset the negative effects of air pollution on blood vessel health. More recently, researchers from the Envirome Institute received $8.6 million from the U.S. Centers for Disease Control and Prevention (CDC) to back research that could help health departments use wastewater to monitor the rate of COVID-19 infection.
The University of Louisville School of Medicine is continuously on the leading-edge of medical research and innovation. From creating therapeutic treatments for COVID-19 to uncovering new connections between obesity and breast cancer, School of Medicine faculty, students and staff are unraveling the complexities of health and providing critical knowledge that advances the field of medicine.
How is the Center of Excellence addressing the human health burden of important infectious diseases and potential vaccine effectiveness?
The School of Medicine Division of Infectious Diseases was designated the first Center of Excellence by Pfizer Vaccines, a collaboration between the university and pharmaceutical corporation aimed at determining the human health burden of important infectious diseases and potential vaccine effectiveness. The designation made UofL the first Center of Excellence of its kind to be part of Pfizer's international network of research organizations. Through community health partnerships, the Center of Excellence conducts population-based incidence studies in 10-area hospitals serving the greater Louisville metro. With its vast reach of the Louisville community, the Center of Excellence is able to report data representative of the United States.
In addition to Clostridium difficile infection (CDI), Community-Acquired Pneumonia and HIV, COVID-19 has been a central focus of the Center of Excellence since March 2020. First coordinating the University's response to the virus and serving as the first testing site for the state, the Center developed a Data Center to provide rapid results for more than 3,000 hospitalized patients from the Louisville community in its first week. The Center was also tapped to implement the Johnson & Johnson vaccine study and serves as Kentucky's coordinating site for the Eli Lily monoclonal antibody trial in long-term care facilities. Most recently, clinical faculty from the Center trained hundreds of healthcare volunteers to serve the community at the mass vaccination initiative, LouVax.