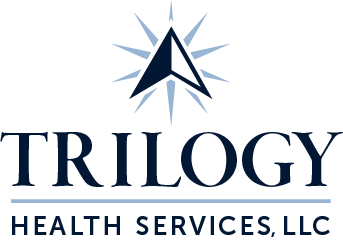 President/CEO: Leigh Ann Barney
COO: Todd Mehaffey
Year founded: 1997
No. of employees: roughly 15,000
Company description:
Trilogy Health Services is a privately held owner, operator, and developer of over 110 senior living communities throughout Kentucky, Indiana, Ohio and Michigan. Known for their culture of servant leadership, Trilogy Senior Living Communities offer post-acute healthcare services, assisted living, memory care, and independent living.
Awards​
2021 Glassdoor Best Places to Work – Employee's Choice Award
Ranked #4 on FORTUNE's Best Workplaces for Aging Services 2020
​What is the vision/mission of your company? 
At Trilogy, our goal is to be the BHCM, or Best Healthcare Company in the Midwest. This means that we not only strive to provide the best care and support possible to our residents – we want to be the best place our employees have ever worked.
Tell us about Trilogy's roots to Louisville. 
Our Founder and Chairman of the Board, Randy Bufford, attended the University of Louisville and stayed here after graduation to start a family. In 1997, he founded Trilogy Health Services right here in Louisville, and the rest is history. Our Home Office is located off Hurstbourne Lane, and Louisville has always been the perfect place for our center of operations.
What is one thing you wish others knew about your company?  
That our employees are truly exceptional people. Before the pandemic, I think people understood in a vague way that our employees cared for our most vulnerable, but more often than not, they didn't take the time to learn just what that entails. During some of the darkest days of the pandemic, we had an employee spend over $100 of his own money to buy extra Christmas decorations for our residents. At another Trilogy community, the leadership team has launched their own virtual variety show. The Executive Director plays the guitar, and residents come on the show as guests.
Actions like these are common at Trilogy. We've seen our team members continue to go above and beyond, even when they're working long hours in full PPE.  As I'm writing this, many of our locations are receiving record snowfall. Tonight, there will be Trilogy employees who choose to spend the night at the campus, so they can ensure they'll be there for their residents the next morning.
What makes your company different from competitors?  
I think something that makes us really stand out in a crowd are the investments we've made in our employee education programs. In addition to offering tuition reimbursement and student loan repayment, we've developed apprenticeship programs for nearly every department, so no matter your job title, you can find a clear path forward to advance your career, increase your skills, and grow your paycheck.
We also have partnerships with educational institutions like Purdue Global, which allow us to offer our employees benefits such as extremely reduced college tuition. Education and growth aren't just perks at Trilogy- they're hardwired into our employee experience.
Have you had to pivot strategies over the years? 
Absolutely. We're in an industry that constantly changes, and over the past 23 years, we've prided ourselves on our ability to adapt, whether that's to regulatory changes or changes to our reimbursement structure like we experienced under PDPM. Our diverse portfolio allows us to shift our focus when we need to. For example, when we saw a decrease in the length of stay for our post-acute patients, we focused more on growing our senior housing business, which includes assisted living, memory care, and independent living. This ensures that we don't become dependent on any one source of revenue.
What makes Louisville a good home for your company?  
Louisville is truly a healthcare mecca. There are so many amazing healthcare companies in our backyard, and we have a very collaborative culture. Besides being able to strategize together and draw inspiration from one another, we have an enormous pool of talent to draw from. Partnering with other healthcare organizations through HEN has been invaluable to us, and we wouldn't be able to do that if we weren't located in a hub for healthcare and aging services. On top of that, Louisville is just a great place to live. There's something for everyone here, no matter your passion.
Is there anything else you'd like HEN members to know about Trilogy? 
We're innovators! We have always fostered a culture of innovation at Trilogy- it's part of our dedication to continuous improvement. For years, our multiple innovation councils have met to discuss new technologies and other innovations in healthcare and hospitality. If we feel it can benefit those we serve, we never hesitate to roll out a pilot. Sometimes we find that the program or technology doesn't work at scale, but in many other instances, we've discovered real game-changers. Our Care.ai autonomous screening platform is just such an example. It's allowed us to automate our screening process companywide without sacrificing safety or integrity.
This cycle of exploration, innovation, and analysis has helped us remain a leader in our industry, and it's something our entire leadership team is very passionate about. Louisville is working to become the aging innovation capital of America, and we're proud to say that Trilogy plays a key role in moving our city closer to that goal.