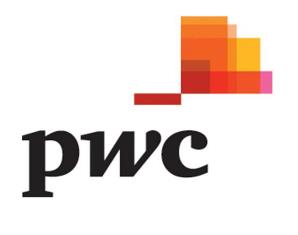 President/CEO: Bob Moritz is the Chairman of the PwC International Network and Tim Ryan is the Senior Partner and Chairman, PwC US
Year founded: 1849
No. of employees: 276,000
Louisville office profile: Office Managing Partner: Todd Klimek; No. of employees: About 100
Company description: 
PwC's network of firms is in 157 countries worldwide.  PwC's professional services including audit and assurance, tax and consulting, cover such areas as cybersecurity and privacy, human resources, deals, and forensics.  We help resolve complex issues and identify opportunities across these industries.  As part of our global network, we have more than 10,000 health industry specialists who provide assurance, tax, and advisory services grounded in an understanding of the entire healthcare system and the dynamics that drive it.  Healthcare is one of two priority industries for PwC.This designation means that our clients have the commitment that we will continually invest in resources, products, and services to provide our healthcare clients with leading ideas, solutions, and value propositions. 
Awards
Fortune, 100 Best Companies to Work for, 2020
AdAge, Best Places to Work, 2020
Vault 2019, Voted #1 in Accounting 50, #1 in Prestige, #1 in Overall Diversity and Top 5 Accounting Internship by Vault.com
Military Friendly, Recognized as one of the top Military Spouse Friendly Employers.®
Ranked #38 on Fortune's list of "Best Workplaces for Giving Back" in 2018
Diversity, Inc.:
Top Companies for Recruitment, 2018
Top Companies for Mentoring, 2018
Top Companies for LGBT Employees, 2018
Top Companies for Executive Women, 2018
Top Companies for People With Disabilities, 2018
Top Companies for Diversity Council, 2018
What are PwC's strengths related to working with the healthcare sector? 
PwC's professionals, serving the health industry worldwide, include experienced executives, strategists, CPAs, attorneys, actuaries, PhD's, regulators, physicians, nurses, pharmacists, and technologists. As the leading advisor to organizations across the health continuum, PwC Health Industries plays a critical role in helping clients solve an array of emerging complex problems facing manufacturers, service providers and new market entrants. Working with organizations in each segment, we have gained a deep understanding of the critical linkages between manufacturers, providers, payers, new entrants, and ultimately patients, and how those relationships affect business strategy and operational requirements. 
We are proud to serve Louisville based companies that are leaders in the industry, and we apply relevant experiences to provide high quality services to all of our clients.  Our local partner and professional expertise includes working with publicly traded and private companies on a variety of audit, tax, and advisory services including enterprise risk management, capital raising activities, actuarial services, initial public offerings, accounting method changes, and complex transactions around mergers, acquisitions, and divestitures.
Why is it important to support the growth of healthcare companies in our region? 
Healthcare is a dynamic industry with powerful drivers that include surging consumerism, technological innovation and ever-evolving regulations–all of which are reshaping the healthcare value chain.  With all of this change comes significant opportunities for both new entrants and established companies to meet the needs of all constituents within the healthcare ecosystem.  Supporting healthcare companies in the region can improve the patient experience, lower costs, and improve the overall region's economy.

How do you stay on top of current and developing healthcare trends?
Through our internally funded and operated Health Research Institute (HRI), our people conduct practical, fact-based, primary research and produce Thought Leadership, offering a point of view about what these trends mean for the industry and what organizations need to do to prepare for tomorrow.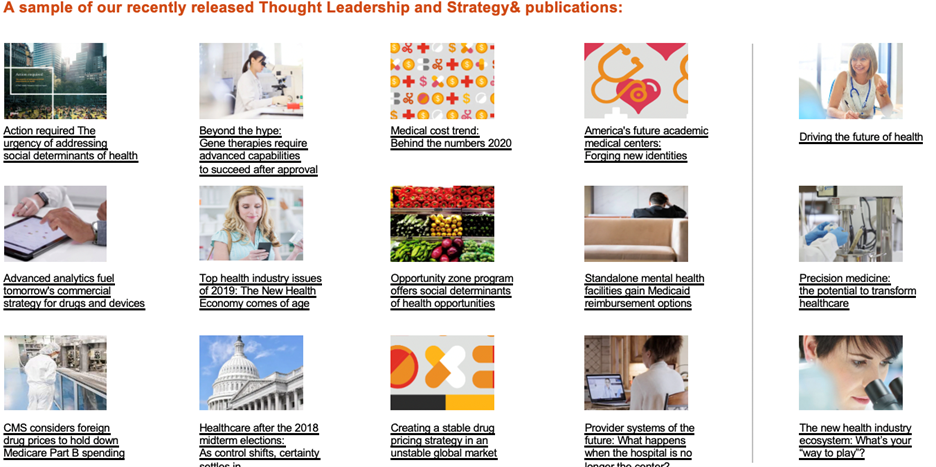 What makes your company different from competitors? 
Our clients benefit from higher quality and more cost-effective services, driven by innovation. We continue to make significant investments hiring healthcare professionals and developing new solutions and services. We use enabling technologies, wherever possible, to deliver efficiency, improve quality, and enhance services. We've invested heavily in our data analytics capabilities and how we apply them in our audits and other consulting work. Our knowledge sharing tools – developed through our experience – enable us to provide analyses and perspectives on issues facing our clients. 
Have you had to pivot strategies over the years? 
On October 1, 2019, we announced our $3 billion investment in tools, technologies, and individuals to disrupt our business and continue delivering value to our clients and communities. We're changing how we work, so we can help our clients change how they work. We provide our 276,000 people with the critical skills and tools to help them develop now and in the future as infinite learners.  PwC is proud to be at the forefront of digital upskilling, weaving it into the very fabric of our firm, and considering how our collective actions have an impact on our people, clients, and communities.
This investment in our people proved to be even more important at the start of the COVID-19 pandemic and our successful shift to remote work—our people had the digital acumen, our communications and workflow automation technology was already part of their day-today work, and our culture around collaboration established the transparency needed to effectively work in teams. 
Our purpose—to build trust in society and solve important problems—is at the core of everything we do. Trust is earned by delivering exceptional, high-quality client and people experiences. Our people work every day to solve important problems, none more critical than preparing for the marketplace of the future and we do that through commitments like Access Your Potential and CEO Action. PwC is committed to a culture of workplace well-being. We launched an effort called Be Well, Work Well because we believe it's important. This is grounded in science, and we're giving our staff the tools and support they need to evolve the Be Well, Work Well culture, team by team.  
Is there anything else you want other HEN member companies to know about PWC?
Many of the leaders are engaged in building more diverse and inclusive organizations and how to engage their employees in these efforts. PwC has been focused on diversity and inclusion for decades, and we've had the privilege to learn from many great organizations who have shared their ideas and learnings with us. In that spirit, we recently publicly released our firm's first Diversity & Inclusion Transparency Report.  We're sharing this data to hold ourselves accountable for making even more progress and with hopes that it helps other organizations on their journey. In addition, by being open about where we are doing well and where we need to do more, we hope to build momentum and bring even more of our people onboard with our strategy and their role in our success.  The report is available at  http://www.pwc.com/diversity  
Additionally, PwC offers relevant professional services beyond audit and tax work for our healthcare clients that.  Please see the list below, and contact for more information about PwC and our services.