The Healthcare Fellows is a formal executive education program focused on the many business sectors in Louisville's vast healthcare ecosystem. Each year professionals are selected to participate in the 10-month program with sessions led by community leaders, academics, elected officials, organizational experts, researchers and entrepreneurs. Fellows met virtually in October due to the pandemic.  The session started with an introduction from Gladys Lopez, senior vice president and chief human resources officer at Norton Healthcare and a Health Enterprise Network board member.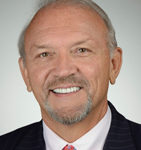 The session included a discussion from Russ Cox, president and CEO of Norton Healthcare, covering culture and workforce management. Cox said that culture is what you say as well as what you don't say. "The CEO has the responsibility for leading the culture in the workplace. And in a healthcare setting, a nurturing culture is especially important," Cox said.
Cox discussed the top seven traits for creating a positive culture in any setting which included being visible, being accessible, transparency and vulnerability, to name a few. Cox expanded on accessibility, "A question I always ask employees is 'If you were in my job, what would you be doing?'" Cox has a personal rule that he always responds to an email within 24 hours, especially "when the chips are down." Cox elaborated on transparency, referencing the quality indicators on the Norton Healthcare web site, "Everything you can possibly share, you are better off sharing. This fosters trust."
The session included project report-outs from Craig Long of Team AARP, Holly Symonds Clark and Jill Gaines from Team KNA and Aleah Schutze from Team Alzheimer's.
Team AARP
The focus of Team AARP was The Greater Louisville Longevity Economy based upon AARP's "The Longevity Economy Outlook that describes the contributions of Americans age 50-plus, worth over $9 trillion in 2018 and projected to grow through 2050".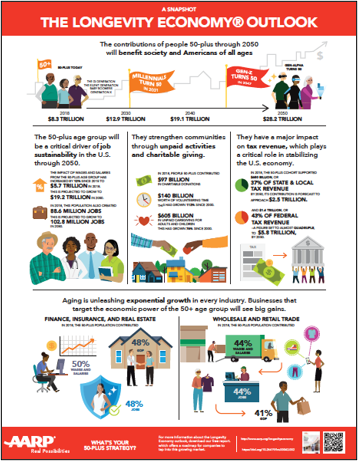 The hypothesis was that the COVID-19 pandemic will have a detrimental effect (inverse correlation) on the greater Louisville 50-plus cohort playing a central role in supporting families and communities, whether it is through employment, volunteering, or caregiving.  The survey process was conducted between August 24th and September 4th to a randomly generated population set of Jefferson County residents. There were 1,008 completed survey responses. Three key findings and implications were:
Key Finding – A large majority of older residents of Jefferson County are concerned about the coronavirus. Topping the list of their concerns is fear that they or someone in their family will contract the virus (73%), or that they or someone in their family will die from COVID-19 (63%).

I – The COVID-19 concern among the older residents of Jefferson County is high, but most are taking appropriate precautions and are practicing new behaviors as well as modifying old behaviors.

Key Finding – Significant numbers of older employed Jefferson County residents have had to change their work arrangements due to the pandemic. Over half (52%) have changed how they work to avoid exposure to the virus.

I – While the coronavirus pandemic has not caused a significant number to change their retirement plans, approximately half have had to change their work arrangements due to the pandemic. Potential employers considering hiring this age group (50+) will need to consider a new paradigm to alleviate concerns of older Jefferson County residents seeking employment.

Key Finding – Older Jefferson County residents are involved in helping others during the pandemic.

I – The pandemic has created a less social, less mobile, life for almost all older residents. Less social life and less mobility may mean a greater focus on family and close associates, and perhaps a greater regard for communities and how individuals can help each other.
Team KNA
The focus of Team KNA (Kentucky Nurses Association) was to develop the Kentucky Nurse Resource Book that will profile nurses from across the state and their specific talents and areas of expertise. Team KNA worked to promote the KY Nurses Resource Book by developing attractive text and graphics for the KNA website; by developing graphics to use in the KY Nurses Resource Book or as posters or pages; developing graphics to use to promote the Resource Book on social media; developing videos to promote and thank KY nurses and highlight the Resource Book; and compiling customer discovery input and helpful hints for KNA to maintain the Resource Book.
Team Alzheimer's
The focus of Team Alzheimer's was to help with marketing and communications. The Alzheimer's Association, Greater Kentucky and Southern Indiana Chapter ("Association") requested help with marketing and communications.  The HEN fellows worked with the Association's former Executive Director and its Longest Day Manager to develop four goals that have a maximum impact for the Association. First, each HEN fellow has formed and registered a team to participate in the Walk to End Alzheimer's which was held virtually in early October. Team AARP also solicited local businesses to sponsor the walk with success.  Second, Team Alzheimer's worked with the Association to support it with social media and marketing activities.  Third, Team AARP worked with the Association to create social media content and marketing materials.
Fellows will celebrate the conclusion of the program on November 17 with a virtual happy hour celebration, "Vino Amore: Fun with Italian wine & food."  Fellows will present projects to the HEN board of directors on November 20.