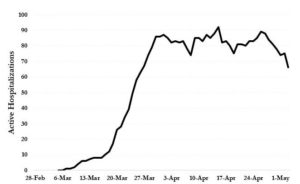 More precise data has informed a second modeling study produced by the University of Louisville School of Public Health and Information Sciences (SPHIS) and the Louisville Metro Department of Public Health & Wellness (LMPHW).
The updated projections show a current plateau in hospitalizations, along with a slight decrease in death rates and a significant decrease in hospitalizations by the end of August, compared to the first report completed just a few weeks ago.
These projections assume "current social distancing and strong containment measures are continued," said Seyed Karimi, PhD, an assistant professor in the Department of Health Management and System Sciences at the UofL School of Public Health and Information Sciences, a co-author of the report.
The study includes factors such as hospitalization rate, length of time from disease onset to hospitalization and average length of stay in the hospital – just five days in Louisville.
Karimi, also a health economist with LMPHW, said, "hospitalizations appear to have plateaued and are hopefully on a trend downward, but again, only if social distancing and stronger containment measures continue at least at the current rate."
The most recent report benefits from an additional 20 days of data, and updated projections narrowed two potential scenarios in the first report to just one, pinpointing April 7 as the date when public and private social distancing policies became most effective.
Other report authors include Natalie DuPre, ScD, MS, Bert Little, PhD, MA, Paul McKinney, MD, Naiya Patel, MPH, all of the SPHIS, along with Sarah Moyer, MD, director of LMPHW and the city's chief health strategist.
Researchers will continue to update models on COVID-19 death and hospitalizations as new data becomes available. All reports and projections are available on the SPHIS website. Read the most recent report.
– Julie Heflin, Office of Communications & Marketing, HSC Campus, University of Louisville