Join Health Enterprises Network on September 14th as we shine the spotlight on entrepreneurs and the dramatic impact they can have on Louisville's healthcare economy. Plan to be part of this lively discussion on the challenges the region has to overcome to embrace entrepreneurial potential and what makes Louisville's entrepreneurial environment unique. Attendees will gain knowledge and insight on how critical entrepreneurs are to the city's economy and why they need corporate engagement to innovative business and drive the health-related economic growth of the region. More details to come!
CEDRIC FRANCOIS, MD/PHD
Co-founder and CEO, Apellis Pharmaceuticals
Cedric Francois' primary areas of expertise are immunology and immune system mediated disease. Cedric Francois received his medical degree from the University of Leuven in Belgium and his Ph.D. in Physiology from the University of Louisville. Following postgraduate training in pediatric and transplant surgery, Dr. Francois was a member of the research team that performed the first successful hand transplantation and of the Louisville Face Transplant Team, whose work supported the first human face transplantation in Lyon, France in 2005. He has published numerous publications and is the principal author on the clinical report of the first four human hand transplantations. He is an inventor on many biotechnology patent applications, including all of Potentia's and Apellis' proprietary patent applications. Dr. Francois led Potentia to become the first group to test complement-inhibiting drug candidates for age-related macular degeneration, more than a year before the landmark reports in Science magazine. In May 2010, he joined Apellis as its Chief Executive Officer.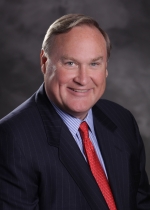 DAVID LAIRD, MHA
Consultant, Strategic Health Advisors
David Laird is a senior healthcare executive with substantial experience as a local leader, a corporate senior executive and an entrepreneur. He served for eighteen years as an executive with Humana, Inc., in both hospital and health plan leadership roles. His career at Humana included serving as CEO of several hospitals, including University of Louisville Hospital, a developing health plan market and as VP of European Operations in London.
Subsequent to that, Mr. Laird led a number of entrepreneurial enterprises, including health care technology, professional services outsourcing and practice management companies. His most successful effort, in partnership with former Humana colleagues, was The American Hospital Directory (www.ahd.com), an internet-based health care data service that continues to grow and prosper.
More recently, Mr. Laird has served as SVP, Strategic Planning and Business Development at Norton Healthcare nd as CEO of Jewish Hospital and St. Mary's Healthcare, where he led negotiations and strategy for an innovative three-way merger with Catholic Health Initiatives – Kentucky and the University of Louisville Hospital. He joined Strategic Health Advisors as Principal in 2012.
Mr. Laird is a graduate of Western Kentucky University (BA, MA), St. Louis University (MHA) and the Yale University Executive Development Program.
Registration Information
Thursday September 14th
Program 5:30 p.m. – 7:30 p.m.
Networking hour before AND after program
NOAH's Event Venue
12451 Plantside Drive
Louisville, KY 40299
Admission: $25.00
Table Sponsor (8 seats): $500.00*
*includes preferred seating and company mention in program