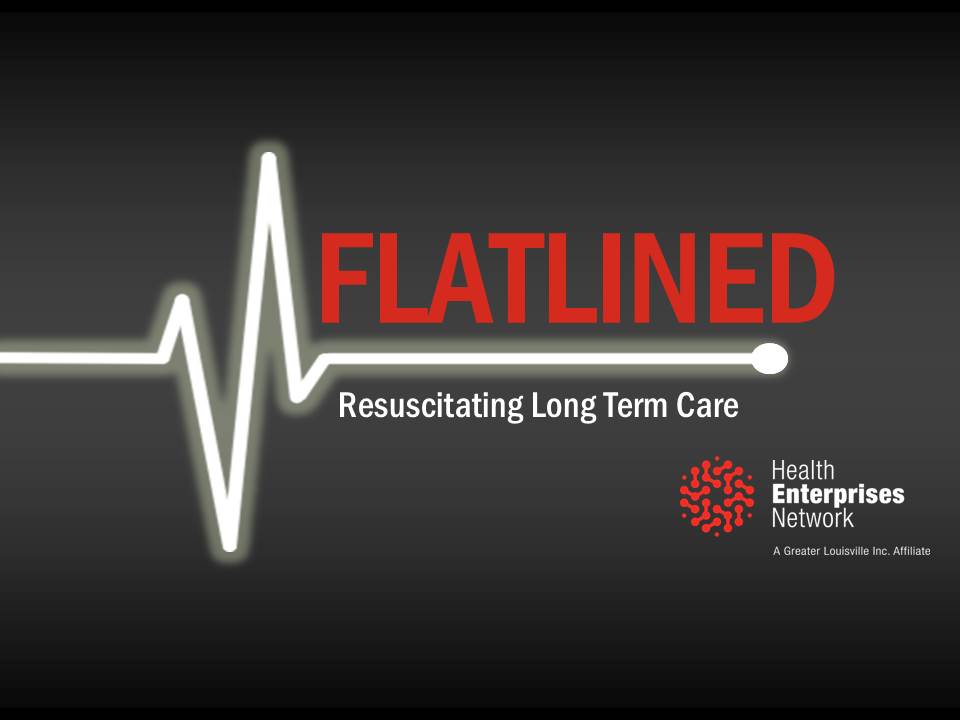 TUESDAY, MARCH 21, 2017
Health Enterprises Network presents, "FLATLINED: Resuscitating Long Term Care," a strategic look into the future of skilled nursing facilities in Kentucky.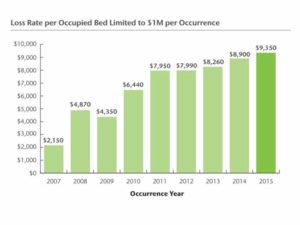 Kentucky has at least one nursing home in every county, with a total of 281 nursing homes and 88 personal care homes.Kentucky has at least one nursing home in every county, with a total of 281 nursing homes and 88 personal care homes.  Combined, these facilities care for over 36,000 people, provide over 30,000 jobs and provide $200 million in state and local taxes. Aon Risk Solutions' 2015 Long Term Care report states Kentucky's long-term care providers are paying over $336 million in liability insurance annually, $9,350 per bed – the highest in the nation!
Join us on March 21, 2017, for a dynamic panel discussion that will dive deeper into current tort reform legislation in Frankfort and potential outcomes, the economic development impact to Kentucky's business attraction strategies, and how Long Term Care will need to evolve to adapt and survive into the next decade.
Scheduled panelists:
Senator Ralph Alvarado, Kentucky Senate District 28
Sarah Davasher-Wisdom, COO, GLI, the Metro Chamber of Commerce
Mary Haynes, President & CEO, Nazareth Home
Marc Rothman MD CMD, Senior Chief Medical Officer, Kindred Healthcare
Moderator:
Keith Knapp, Associate Professor, Health Sciences, Bellarmine University and former CEO, Christian Care Communities
Senator Ralph Alvarado, Senate District 28

Clark, Fayette, Montgomery 

Ralph Alvarado serves as member of the Kentucky Senate from the 28th District (Clark, Fayette, Montgomery counties), being first elected in 2014. He has been a doctor in Winchester since 1998 and was President of Winchester Medical Associates until June 2013. Due to decreasing reimbursements and increasing regulations, he made the decision (as have 70% of American primary care doctors) to close his practice. He is now a physician with KentuckyOne Medical Group and also serves in a leadership capacity as a Regional Medical Director, Board Member, and Chairman of the Finance Committee for KentuckyOne Medical Group. In the past, Ralph has served as Chief of Staff at St. Joseph' East Hospital for two years and was also President of Medical Staff for St. Joseph's Hospital and St. Joseph's East Hospital in Lexington. Full Bio.
Sarah Davasher-Wisdom, Chief Operating Officer

Greater Louisville Inc.

Sarah has led government affairs activities for Greater Louisville Inc. – the Louisville Metro Chamber of Commerce- since July 2014. Since joining GLI, she has risen to become the Chief Operating Officer, now overseeing all public affairs and communications, human resources, finance and administration, board relations and strategic planning efforts. Sarah has an extensive background in advocacy.  Before joining GLI, she managed government affairs activities for the Tennessee Valley Authority, served as Strategic Communications Officer for the U.S. Army Corps of Engineers in Louisville, and worked as Community Development Coordinator for Congressman Ron Lewis.
Mary Haynes, President & CEO

Nazareth Home

President and CEO of Nazareth Home in Louisville, Kentucky, since 2001, Ms Haynes is an active advocate for innovation in long term care. Last year, Nazareth Home received the distinction of being named Kentucky's Facility of the Year and was designated the Courier-Journal's Top (#1) Mid-Size Workplace in Louisville for 2012.  As the founder of the Kentucky Coalition for Person Centered Care,  Haynes is engaged with CMS (the U.S. government Centers for Medicare & Medicaid Services) as the leader of Kentucky's stakeholder group for improvement initiatives.  Haynes has been honored by her peers for leadership and community education.
Marc Rothman MD CMD, Senior Chief Medical Officer

Kindred Healthcare

Dr. Rothman serves as the Chief Medical Officer of Kindred Healthcare, Inc., where he oversees the company's physician strategy and drives practitioner network development and recruitment across multiple service lines including long-term acute care hospitals, skilled nursing facilities, rehabilitation, home health and hospice. Prior to joining Kindred, Dr. Rothman practiced geriatric, post-acute and palliative medicine with the Permanente Medical Group of San Francisco, where he directed the post-acute medical service for the Kaiser Permanente San Francisco Medical Center. A graduate of the New York University School of Medicine, Dr. Rothman completed his internship and residency in internal medicine, and fellowships in geriatric medicine and clinical epidemiology, at Yale University. Full bio
Moderated by:
Keith Knapp PhD, Assoiciate Professor
Lansing School of Nursing & Health Sciences, Bellarmine University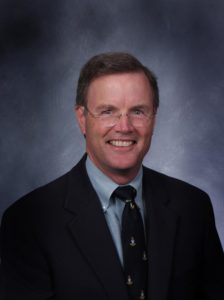 Keith Knapp is currently Associate Professor and Chair of the Health Services Department in the Lansing School of Nursing and Health Sciences at Bellarmine University.  His 37-year career in long term care leadership has included serving as the CEO of Christian Care Communities and the Episcopal Church Home, as well as board chair of the National Association of Long Term Care Administrator Boards, the American College of Health Care Administrators, LeadingAge Kentucky and the Kentucky Board of Long Term Care Administrators.  He holds both a Ph.D. in gerontology and B.S. in arts and sciences from the University of Kentucky, and a Master's Degree in Health Administration from Xavier University.  Dr. Knapp is considered by many of his peers as a thought leader and change agent in the field of senior living.
REGISTRATION NOW OPEN
When:
Tuesday, March 21, 2017
8:15 a.m. – 9:00 a.m. Registration & Networking
9:00 a.m. – 11:00 a.m. Presentation & Q&A
Where:
The University Club
University of Louisville Campus
200 East Brandeis Avenue
Louisville, KY 40208
How: 
Register on Eventbrite
or Register@HealthEnterprisesNetwork.com
ON EVENTBRITE: TO RECEIVE THE HEN MEMBER RATE, PLEASE TYPE IN YOUR PROMOTIONAL CODE. YOUR COMPANY'S PROMOTIONAL CODE IS YOUR COMPANY'S NAME, WITH NO SPACES. IF UNCERTAIN, YOU CAN FIND YOUR COMPANY'S PROMOTIONAL CODE HERE. (You must be logged in to view promo codes)
HEN Member: $45.00
Non-Member: $60.00
Row/Table Sponsor (8 Seats): $500.00
Students: $10.00
Sponsors: