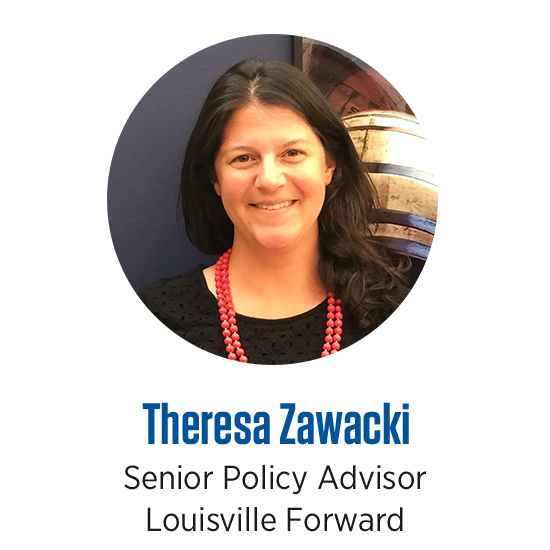 Theresa Zawacki is Senior Policy Advisor to Louisville Forward, Louisville Metro Government's economic and community development authority. Ms. Zawacki coordinates Louisville Metro Government's local food initiatives and manages a range of cross-functional policy efforts, including the Office of Redevelopment Strategies which is focused on targeted neighborhood redevelopment in Louisville's Russell neighborhood, a suite of community engagement strategies, large development projects in which Louisville Metro Government has a financial, property or community development interest, and Louisville Forward's project management office. Ms. Zawacki is the primary author of the Louisville CARES revolving loan program, which provides gap financing for affordable multi-family rental housing development, and has experience in public and private sector finance. She represents the Mayor as a member of the District Board of the Jefferson County Cooperative Extension Service and the Louisville Affordable Housing Trust Fund Board, of which she is the current Vice-Chair.
Ms. Zawacki spent 9 years practicing law in the private and public sectors, where she specialized in land use, planning and zoning, land conservation and environmental law. She served as an Adjunct Professor of Land Use Law at the University of Louisville, and is a frequent national speaker on topics ranging from local food systems to brownfields redevelopment strategies. Ms. Zawacki received her undergraduate degree from Transylvania University in Lexington, Kentucky, and her J.D. and Masters of Community Planning from the University of Cincinnati in Cincinnati, Ohio.
In her spare time, Ms. Zawacki helped establish and is the current Board Chair of Wilderness Louisville, Inc., a non-profit foundation that champions Louisville's natural areas, from the largest municipally-owned urban forest in the nation, Jefferson Memorial Forest, to the ones in your neighborhood.