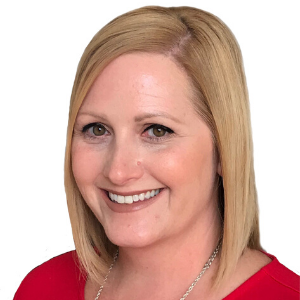 Patty Belden
CEO, ElderServe Inc.
Patty Belden is Chief Executive Officer at ElderServe Inc.  Prior to that, Patty oversaw marketing, sales, volunteer services, development and fundraising as ElderServe's Chief Development Officer.
After graduating from Indiana University in 2003, Patty started her non-profit path with a small youth-serving organization in St. Louis, MO. Wanting to settle closer to family, Patty moved back to her Southern Indiana hometown and continued her work with youth at Louisville's Brooklawn Child & Family Services (now Centerstone).
In an effort to broaden her scope and experience, Patty accepted the position of Volunteer Engagement Coordinator with Metro United Way in 2009.  For nearly 10 years, Patty worked with Metro United Way in various positions including her last post as Vice President of Community Giving.  In 2018, Patty's life and perspective changed when she lost her father to a massive stroke.  It was this experience that led her to a new calling in aging health care.  Patty has exhibited a strong start in the aging care arena, with recognition as "20 People to Know in Aging Care" by Business First and being named CEO after only fifteen months with ElderServe.
"I look forward to participating in the Healthcare Fellows Program to expand my network of peers in different sectors of healthcare, broaden my leadership skills and deepen my knowledge of the region's healthcare ecosystem."