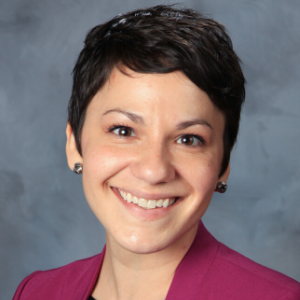 Emily Just
Assistant Director, Administration, University of Louisville Center of Excellence for Research in Infectious Diseases
Emily Just is the Assistant Director of Administration for the Center of Excellence for Research in Infectious Diseases (CERID) at the University of Louisville. As part of the leadership team, Emily develops and implements strategies that support the growth of CERID's clinical research infrastructure and engagement with community and scientific collaborators. She provides direction in human resources, finances, and organizational development activities of CERID. She also coordinates with University and local healthcare partners to enable CERID to conduct world-class, population-based research in the city of Louisville.
Trained in instructional design and facilitation, Emily is passionate about supporting opportunities for professional and personal development. During her time with The Leadership Institute – Women with Purpose, she created and delivered experiences aimed at helping women develop essential leadership skills. She continues this work today by serving as vice president on the national board of directors for Alpha Sigma Alpha, a women's fraternal organization.
Emily attended the National University of Ireland-Galway where she earned her Master's degree in Health Promotion, after completing her Bachelor's degree in biology and Spanish at Murray State University. In her free time, Emily enjoys spending time with her family, reading, and cooking.