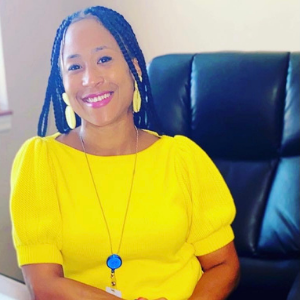 Shantelle Simpson
Chief Operating Officer at Park DuValle Community Health Center
Shantelle Simpson is the Chief Operating Officer for Park DuValle Community Health Center and a member of the American College of Healthcare Executives. Born in Louisville, Kentucky, Shantelle attended local public schools graduating with honors from Suda E Butler Traditional High School. She was captain of the Varsity Cheerleading team and went on to earn a spot on the National Cheerleading Championship team of University of Louisville.  

Shantelle received her Master of Nursing & Science from Western Governors University and is currently enrolled in the Education and Leadership Doctoral Program at Spalding University. She has been an employee of Park DuValle Community Health Center for ten years starting her career as the Nurse Manager. Shantelle has been promoted several times while at Park DuValle Community Health Center and played a lead role in quality improvement, lean management, and corporate fundraising projects.  

Shantelle led the organization in achieving Level Three Patient Centered Medical Home recognition through the National Committee of Quality Assurance and continues to work with department leaders to improve quality outcomes through tracking and reporting various quality measures; HEDIS, Meaningful Use, and Patient Centered Medical Home. Playing a key role in the daily operations of the organization, Shantelle works closely with the CEO and members of the Executive Team to meet the goals outlined in the organization's strategic plan.  

Shantelle has helped the organization in fundraising efforts bringing in over $650,000.00 within the past year. Funds were used to start two school-based health centers and a food insecurity program for Park DuValle Community Health Center.  

Shantelle Simpson has two daughters Sarai Simpson (18) and Selah Simpson (12). She serves her community through mentorship of under-privileged high school students and has a passion for helping women develop their professional careers. Shantelle is a graduate of Leadership Louisville's Ignite Spring 2019 class.  
"As I grow in my professional career, I am excited about the opportunity to learn from peers and those more advanced in their careers. I feel my participation in the program will support my desire to continue developing as a community leader and changemaker. Having the opportunity to meet with some of the Commonwealth's top healthcare leaders and fellowship with peers across the healthcare industry is an opportunity that I would not take for granted."