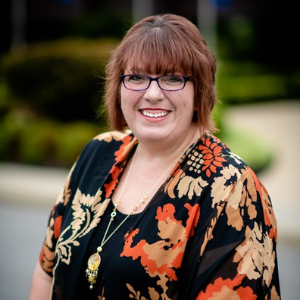 Meet Angie McAllister, Director of Quality of Life and Culture Change for Signature HealthCARE. Angie has worked in long term care since 1995 when she entered the industry as a nursing assistant. Angie has worked to improve the stigma and perception around aging and nursing homes in general through innovative programming and creativity. Angie also serves on the Eden Alternative Board of Directors where she works to drive person directed practices in all healthcare settings.
For Angie's most recent project "Wendy's Neverland", she teamed up with TimeSlips to create a site-specific, immersive theater arts program for nursing homes, using the residents as actors. With the guidance of professional artists who lead the program, as well as staff, volunteers and families, resident's take part in every aspect of developing the play from set decoration to acting. Based on the stories of Peter Pan,  the play celebrates the life of Wendy, who is now herself in a nursing home. At program's end, a professionally produced play is put on for the community.
"The exploration of creativity is a personal journey that reaps huge rewards for our aging population. Creative engagement in and of itself offers a non-traditional path towards self-discovery and healing that prescription medicines and traditional clinical treatments will never be able to offer. The world of imagination offers a safe space that is free from the limitations that sickness and disease often bring. In fact, it touches the core of the individual."
Click on the articles below to see how "Wendy's Neverland" and the arts transformed nursing homes and their residents:
Angie presented "Wendy's Neverland: The Integration of Arts and Aging for Community Building" at this year's annual CONVERGE Louisville conference which is part of Health Enterprises Network's Aging & Innovation theme initiative.