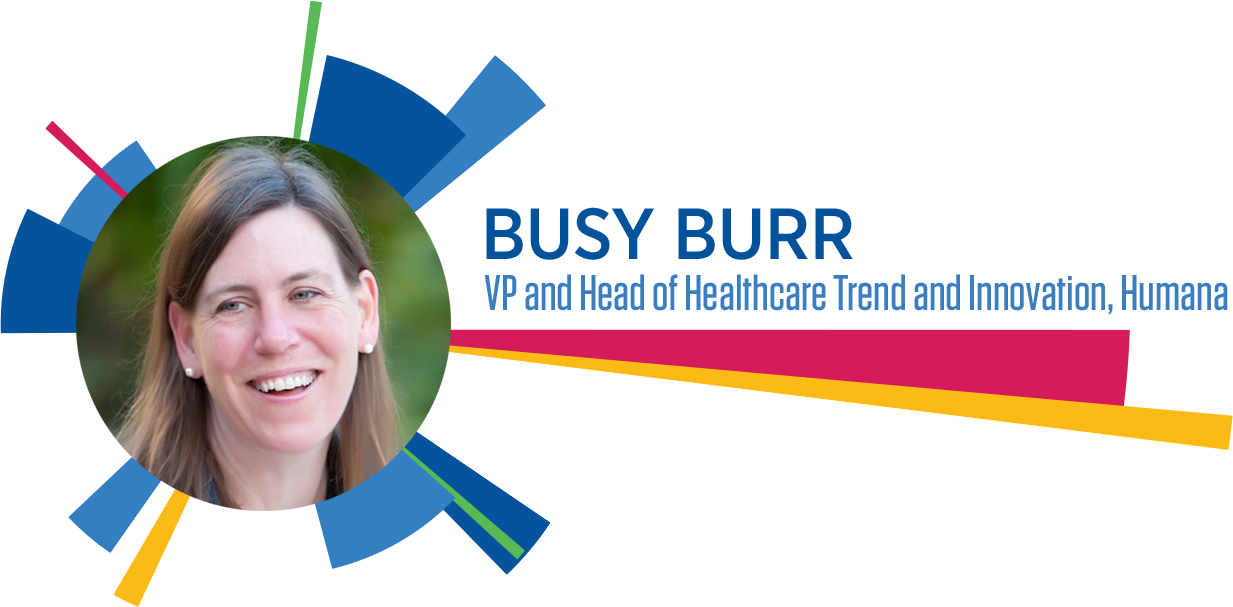 "Becoming an Epicenter: Walking the Innovation Talk"
Louisville is rapidly becoming the epicenter of talent, innovation and progress in the care of America's aging population.  We are at the forefront of a growing market and an urgent need. With preeminence comes with a responsibility to do more, both individually and collectively, to make the most of the many opportunities that are out there.
Busy Burr, Vice President of Healthcare Innovation and Trend, at Humana will spark a conversation about how we can continue to drive progress, impact health and reduce the costs of healthcare.  Hint – it means we need to reimagine and implement new ways of working. Busy believes that progress happens when bold ambition meets practical action.  She will share lessons learned from leading innovation in industries as varied as finance and retail fashion, and from more than two decades living and working in the heart of Silicon Valley.
About Busy Burr
Busy Burr is Vice President at Humana and Head of Healthcare Trend and Innovation, based in Silicon Valley.  In this role, she leads a 50+ person team driving cross-company efforts to deliver transformational solutions that improve health outcomes, create superior member experiences, and bend the trend on health care costs. The HTI team drives External Discovery, Innovation Partnerships, Product Development and Trend Product Portfolio Management for the company.
Before joining Humana in 2015, she was Managing Director of Citi Ventures and led large-scale business transformation efforts as the Global Head of Citigroup's DesignWorks.  Among her accomplishments at Citi was the digital, process and client experience transformation of Citi's Global Private Bank, which received innovation awards as Spear's Private Bank of the Year and Euromoney's Best Overall Bank. She is the author of From Ideas to Impact, a playbook for executing innovation in a global enterprise.
Busy's innovation bug started early.  When she was in the 3rd grade, she built a time machine out of a refrigerator box.  It was a disappointing failure, but it marked the first of her many adventures into disrupting the status quo. Since then, her inspirational leadership and passion for customer experience has resulted in several ground-breaking businesses and products, and she holds patents (some pending) in mass-customization, alternative currency and social payments.
Busy's unique blend of skills and her wicked sense of humor have been honed as a technology investment banker, a global brand marketer, an entrepreneur-in-residence and as the founder and CEO of a Silicon Valley startup.
She spent seven years in investment banking at Morgan Stanley and Credit Suisse First Boston executing IPOs and M&A deals for some of the best companies in the technology space. As Vice President of Global Brand Management at Gap, Inc. she was responsible for aligning the product, retail, online, advertising and merchandising efforts for the four Gap brands around the world.  As Entrepreneur-in-Residence at eBay, she led the creation of an innovative social e-commerce platform.
At Humana, Busy founded the company's strategic investing practice, Humana Health Ventures, and built a world-class team and reputation in healthcare venturing and innovation in a single year. In 2017, she was named to the Global Corporate Venturing (GCV) Powerlist, placing her among the top 100 corporate venture leaders in the world. Every year, she and her team meet with hundreds of healthcare startups, innovators and investors to identify the most-promising partners and innovative opportunities for Humana.  In addition, she established and directs the work of the new products foundry to design, build and commercialize platforms and solutions that promise to generate a return on health.
Busy holds an MBA from Stanford and a BA in Economics from Smith College. She was named one of Silicon Valley's Women of Influence and has been honored as Frost & Sullivan's Innovator of the Year.  A sought-after speaker and collaborator, she is also a long-time performing member of the Bay Area improv troupe Subject to Change.