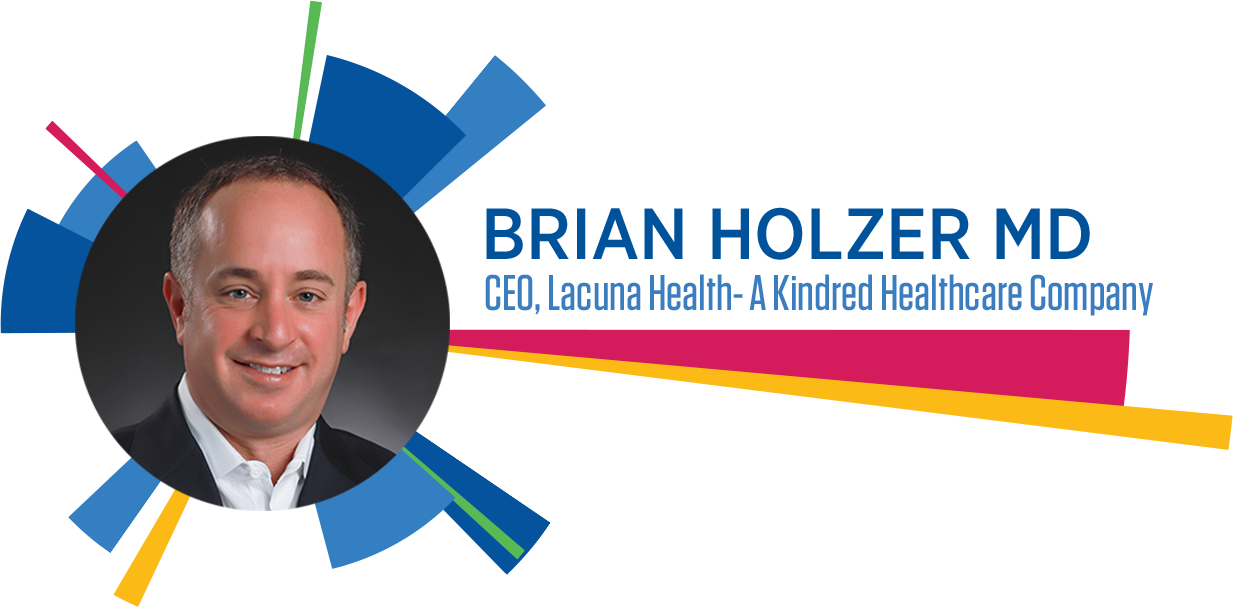 "The Rise of the Patient and Importance of Patient Engagement"
Brian Holzer MD, CEO of Lacuna Health, will discuss the rationale for Lacuna's creation from Kindred Innovations and why the organization selected Louisville over other markets. He will explore the shortfalls of the home health model, with particular attention to high rates of returning ED visits as a result of 45 day coverage limits. Discussion will include possible solutions in the landscape, such as: healthcare point solutions vs a platform for care and the aggregation of channels (transportation, pharmacy, access to care, etc.) to fill the gaps in the healthcare ecosystem.
About Brian Holzer MD
In addition to serving as the CEO of Lacuna Health, Dr. Holzer has been President of Kindred Innovations since June 2017. Kindred Innovations was born out of early success providing care management and home-based primary care solutions for patients across Kindred Healthcare's divisions and post-acute continuum, and is uniquely positioned to deliver proven post-acute management solutions and services to hospitals and health systems, ACOs, clinically integrated networks, physician groups and post-acute care organizations who are seeking new and effective ways to manage post-acute care quality, outcomes and cost.
Dr. Holzer joined Kindred from Highmark Health, the third-largest integrated healthcare delivery and financing network in the nation. At Highmark, Dr. Holzer led the formation of HM Home and Community Services ("HMHCS") and served as President of the organization. HMHCS was established in 2016 to be an innovator in post-acute management solutions, and has since helped drive improved clinical outcomes, better patient experience and a reduced overall cost of care for a Pennsylvania ACO and a health insurer's Medicare Advantage line of business.
Dr. Holzer initially joined Highmark Health in 2013, first overseeing post-acute care operations at the Allegheny Health Network ("AHN"), a western Pennsylvania-based integrated healthcare delivery system. At AHN, Dr. Holzer led the development and operations of AHN Healthcare@Home, resulting in a hospital system-driven continuum of care model consisting of home health, hospice, home medical equipment and home infusion. Dr. Holzer has also held positions in healthcare consulting and various strategy, operations, and sales and marketing roles in the biotechnology industry. He received a medical degree from the Drexel School of Medicine and an MBA with a major in healthcare management from the Wharton School of Business.