HEN Signature Event: Future of Healthcare Workforce presented by HR Affiliates
Adapting to, mobilizing, and understanding healthcare delivery
April 27, 2022 | 3 – 5:30 pm | Copper & Kings American Brandy Company, 1121 East Washington Street (Art Gallery, 2nd floor), Louisville, KY 40206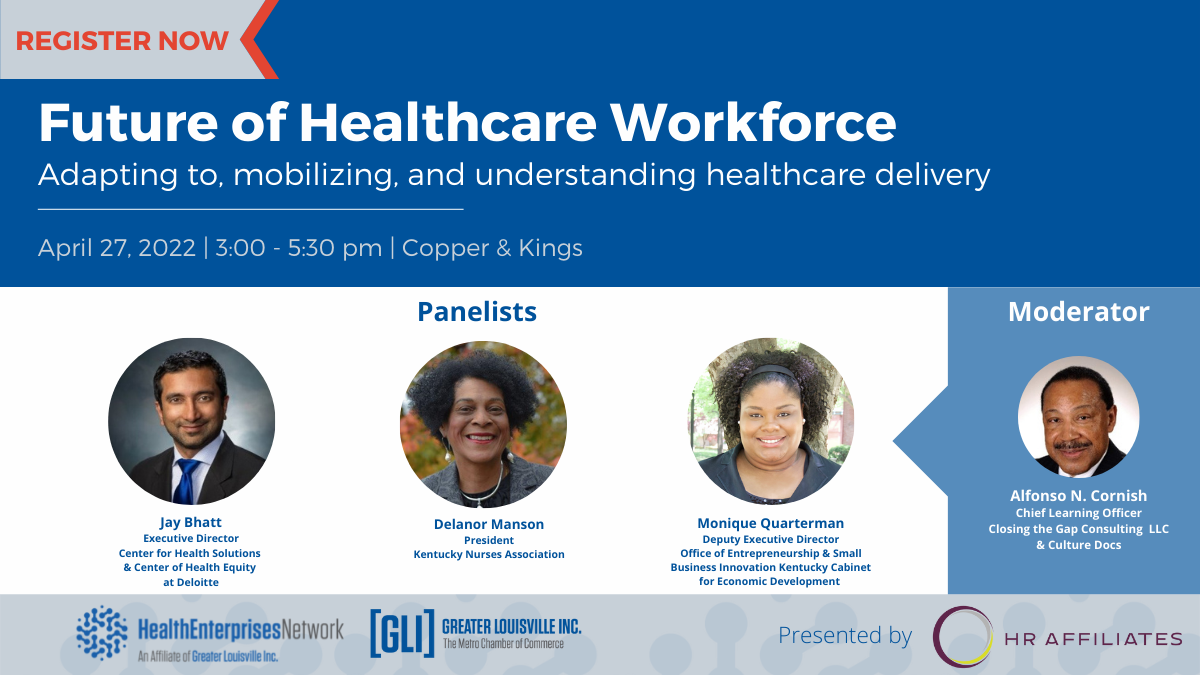 SUMMARY: GLI and presenting sponsor, HR Affiliates, presents a combined event with the Health Enterprises Network and Workforce Connections series, focused on changing the landscape of the healthcare workforce. Our elite panel of speakers includes top-level representation from Deloitte, the Kentucky Nurses Association, and the Office of Entrepreneurship and Small Business Innovation within the Kentucky Cabinet for Economic Development. The US Bureau of Labor Statistics noted that the healthcare was the second largest industry affected by The Great Resignation. Healthcare workers are reportedly leaving for better paying jobs that offer less exposure to COVID-19 and less working hours, such as positions that allow them to work from home. Demand for workers is allowing for increased mobility in this labor market. We'll discuss how the workforce shortage has affected the delivery of healthcare, and how we can be working together to support and grow the healthcare workforce, while improving diversity and employee culture. The panel discussion will be followed by a social hour with the opportunity to enjoy hors d' oeuvres and cocktails, meet other industry professionals and continue the conversation with our speakers.
Jay Bhatt
Executive Director, Center for Health Solutions & Center of Health Equity, Deloitte
Jay Bhatt, D.O., MPH, MPA is a physician executive, internist, geriatrician, and public health innovator. As Executive Director of the Deloitte Center for Health Solutions (DCHS) and the Deloitte Health Equity Institute (DHEI), Dr. Bhatt directs the research, insights, and eminence agenda across the life sciences and health care industry while driving high-impact collaborations to advance health equity. He is a prominent thought leader around the issues of health equity, health care transformation, public health, and innovation. Passionate about patient care, Dr. Bhatt will continue practicing medicine at local community health centers in Chicago and Cook County while serving in his leadership role at Deloitte. Dr. Bhatt's work has earned the attention of top media outlets seeking his expertise. He is a recipient of the Harvard Kennedy School Alumni Award, a Presidential Leadership Scholar, and an Aspen Institute Health Innovator Fellow.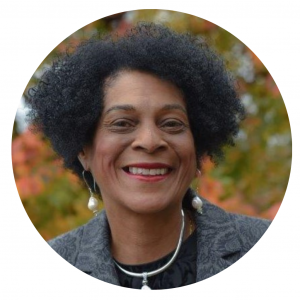 Delanor Manson
President, Kentucky Nurses Association
With degrees in nursing and healthcare management, Delanor Manson is a visionary leader whose career has focused on innovative medical initiatives in both patient care and complex administrative settings. Committed to furthering the nursing profession via education, advocacy, research and support, Delanor currently serves as the chief executive officer for the Kentucky Nurses Association (KNA). Prior to joining the KNA, she was the associate vice president of research and design at Hosparus Health. She also served as deputy secretary for the Kentucky Cabinet for Healthcare Services and in various leadership roles within hospitals and healthcare organizations nationwide. With 27 years of service, Delanor achieved the rank of captain in the U.S. Navy. During her military career, she applied her nursing education to various positions throughout the country, as well as in Japan, Great Britain, Germany, Italy and Puerto Rico. Delanor serves on the Team Kentucky Better Nursing Advisory Committee and the Louisville Metro Public Health & Wellness Advisory board. A locally, regionally and nationally known speaker, she regularly shares her expertise about leadership, healthcare equity, health equity, health policy, healthcare disparities, COVID-19 vaccines and testing and the image of nurses. She is a sought-after news source and has appeared on KET as well as ABC, CBS, NBC and local FOX affiliates statewide.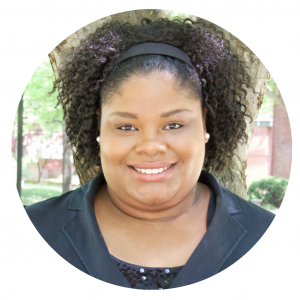 Monique Quarterman
Deputy Executive Director, Office of Entrepreneurship and Small Business Innovation within the Kentucky Cabinet for Economic Development
Monique Kuykendoll Quarterman, MBA serves as Deputy Executive Director of the Office of Entrepreneurship and Small Business Innovation within the Kentucky Cabinet for Economic Development, also known as KY Innovation. Prior to this role, she served as Executive Director for Kentucky Commercialization Ventures (KCV), as a Senior Leadership Team member at the Kentucky Science and Technology Corporation (KSTC), as a co-investigator to the NIH-funded Kentucky Network for Innovation and Commercialization (KYNETIC), and as the lead and co-founder of the Kentucky Intellectual Property Alliance (KYIPA). She founded Quartz Smith Strategies, a KY-based innovation consulting firm, and conducted research focused on inclusive innovation that led to collaborations with the CDC, NSF, NIH, and others. She is a graduate of the University of Louisville and a Kentucky native.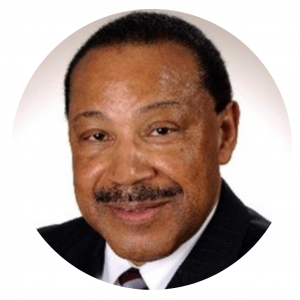 Moderator: Alfonso N. Cornish
Chief Learning Officer, Closing the Gap Consulting LLC & Culture Docs
Alfonso N. Cornish is Chief Learning Officer for Closing the Gap Consulting, LLC and Culture Docs. Both organizations work to assist companies in creating healthy workplace cultures. He is the former system vice president of learning and organizational development and chief learning officer for Norton Healthcare where he led Norton University, which was responsible for the staff, physician, leadership and executive development programs. Mr. Cornish has over forty years' experience in administrative, training, human resources, and operations management. He is the recipient of numerous awards and honors. To name a few, he received the 2019 George Merrifield Legacy Award for contribution to philanthropy; 2017 Louisville Business First "People to Know In Healthcare"; and the 2009 Campbellsville University Leadership Award for his national, state and local leadership in the field of healthcare.